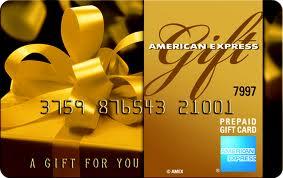 American Express Gift Cards are a popular option for those last-minute or difficult holiday gifts. Here are the highlights:
Works wherever American Express is accepted.
No fees after purchase. Other cards may have inactivity fees or transaction fees.
Funds do not expire. If the date on the card expires, get a new card by calling Customer Service at 1-877-297-4438.
Replaceable if your card is stolen or lost.
Note: American Express does not ship Gift Cards to the states of HI and VT.
The standard drawback is that these cards usually have two separate fees: a $3.95 purchase fee and a $5.95 standard or $8.95 expedited shipping fee.
EXPIRED. Until 11:59 PM EST on Sunday 12/4/2016, you can get $0 purchase fee and free expedited shipping with promotion code CYBER16.
Some people also use these gift cards for meeting credit card spending hurdles as you can buy them with any major credit card (AmEx, Visa, Mastercard, or Discover card).