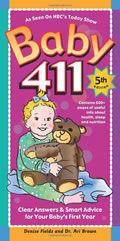 Amazon Mom is a program that has some nice perks for parents if you already pay for Amazon Prime at $79 a year (name is a little sexist, though ;)). The main draw is the 20% off diapers & wipes (5% Subscribe & Save discount + 15% Amazon Mom discount).
Right now, they have a new-member promo for $10 off your first pack of diapers when you sign up for a free 3-month trial. During the trial, you'll also get the free 2nd-day shipping of Prime but not the video streaming or free Kindle book borrowing. Many people have reported problems stacking the $10 off with the 20% off Subscribe and Save discount, but others have reported success after either changing up the subscription periods or using Amazon's Help chat feature to manually combine them. If you can stack them, it's a good deal.
Also, I saw that they are offering a mysterious coupon book of "$100 value" when you buy a qualifying baby book. Has anyone gotten this coupon book yet and is it any good? We currently own the following books on their list (amongst others, we went book crazy):
Now I'm looking for a good baby sleep book. Any suggestions?