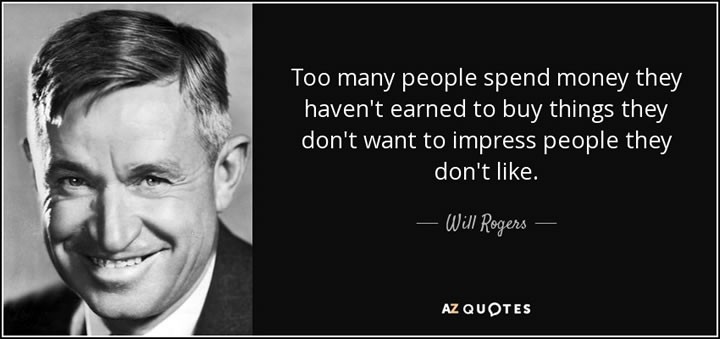 We've all heard the phrase "Keeping up with the Joneses". It even has its own Wikipedia page with competing origin stories. Perhaps the greatest marketing trick ever is making people equate social status with material goods.
Instead of worrying about the neighbors who (supposedly) make more money than us, what if we instead looked carefully at the neighbors who make less than us? Their valuable example is what can actually help us grow real wealth. What am I talking about? Michael Taylor of Bankers Anonymous explains in his post Saving is never easy:
But – and here's a key point that you should understand – if you make $50,000 per year, you probably live on the same street as someone who makes quite a bit less than you, say, $40,000 a year.

Somehow your neighbor making $40,000 has figured out how to pay all the bills and sock away an extra few hundred dollars every month. I don't know she does it. Frankly, I'm resentful of her success. But I'm also impressed.

Also, she doesn't understand how the family of four two blocks away can survive on $30,000. And yet, that family does it too.

Meanwhile, in another part of your same town, another family is going completely broke on $120,000 a year. If they could just find an extra 10% more income, they think, the checkbook would balance. They could pay down that ever-growing credit card balance. But each month comes and goes, and the debts grow.
Let's consider this in the context of financial freedom and early retirement. If you wanted to oversimplify things, you would say that you need to control your spending to the household median income level (say, $50,000 a year) while boosting your household income to double that (say, $100,000 a year). A nice, round 50% savings rate. I'm sure many households who make over $100,000 would laugh at the idea of spending under $50,000 a year. Impossible. Can't do it. But guess what? Half of all US households are doing exactly that every day, so it certainly isn't impossible! For some reason of human psychology, it is just incredibly hard to make that choice.