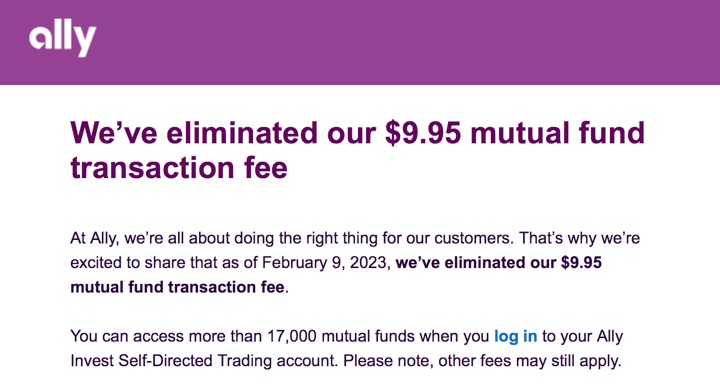 Ally Invest is the self-directed brokerage arm of Ally Financial, and you may have an account from previous TradeKing and/or Zecco mergers. Ally Invest just removed their $9.95 mutual fund transaction fee, including for money market funds:
At Ally, we're all about doing the right thing for our customers. That's why we're excited to share that as of February 9, 2023, we've eliminated our $9.95 mutual fund transaction fee.

You can access more than 17,000 mutual funds when you log in to your Ally Invest Self-Directed Trading account. Please note, other fees may still apply.
First of all, the default cash sweep for Ally Invest pays zero interest. In addition, this change may be of interest to customers who also use Ally Bank, given that their online savings account only pays 3.40% APY (as of 2/15/23). Meanwhile, here are the 7-day SEC yields (as of 2/14/23) of top money market funds:
Vanguard Cash Reserves Federal Money Market Fund Admiral Shares (VMRXX) – 4.51% ($3,000 min)
Vanguard Federal Money Market Fund (VMFXX) – 4.50% ($3,000 min)
Vanguard Municipal Money Market Fund (VMSXX) – 3.43% ($3,000 min)
Gabelli U.S. Treasury Money Market Fund (GABXX) – 4.43% ($10,000 min)
Fidelity Government Money Market Fund (SPAXX) – 4.19% ($100 min*)
* The Fidelity fund does not have a minimum itself, but Ally has a $100 minimum order size for online mutual fund orders.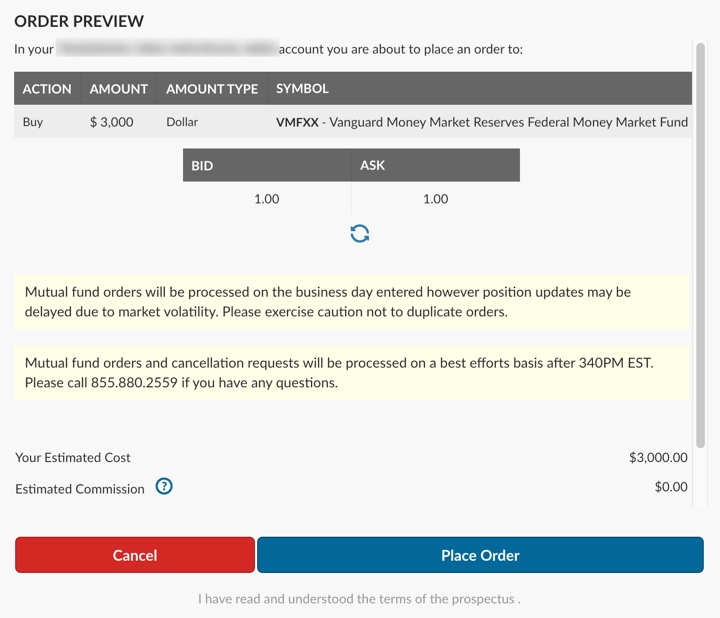 I have gone into my Ally Invest account and manually tested all of the money market mutual funds listed above, and it let me put in the order at the minimum amounts shown. Ally Invest also does not charge a short-term redemption fee. I was able to make an instant transfer of funds from my Ally Bank deposit accounts to my Ally Invest brokerage account. Therefore, if you have an Ally Bank account and don't want to look too far elsewhere, you may consider this option to increase the yield on your cash holdings.