If you have all your domestic stock allocation invested in an S&P 500 or Total Stock Market Index Fund like VFINX or VTSMX, here's some interesting food for thought that I picked up from All About Asset Allocation by Richard Ferri.
Based on historical data from 1975-2004, compared to a portfolio containing 100% of a Total Market index fund (specifically the Wilshire 5000 here), a "mix of 70% in the total market and 30% in the small value index would have increased U.S. equity returns by 2.7% with no increase in portfolio volatility." In layman's terms, by adding a small exposure to Small-Cap Value stocks, you would have gotten more reward for the same amount of risk. Here's a simple sketch that illustrates this: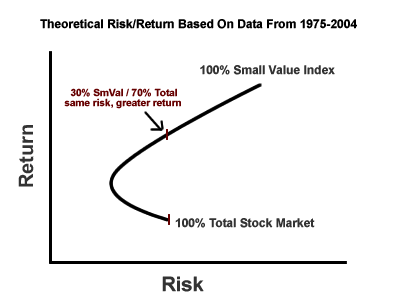 To me, this is a great example of how the efficient frontier works to maximize your return for a given amount of risk. While this does not guarantee that future returns will reflect this, it does cover a good stretch of time and I would it strongly suggests adding a dose of Small-Cap Value to your existing asset allocation if you haven't already. Keep in mind that the S&P 500 and Total Market indexes are actually very closely correlated.
This is also why I moved away from all-in-one funds like Vanguard Target Retirement Funds or Fidelity Freedom Funds. While I still recommend these funds for people who value ease and simplicity, I like the ability to optimize my asset allocation. Right now, I have about 35% of my domestic stock investments in Vanguard's Small-Cap Value Index Fund (VISVX) as part of my new overall portfolio.
This is also why I don't have a separate Mid-Cap fund in my portfolio, as Mid-Caps are still closely correlated to Large-Caps.
Ferri also advocates Micro-Cap Index funds, but admits that good ones are hard to find. One possibility is the Bridgeway Ultra-Small Company Market (BRSIX).