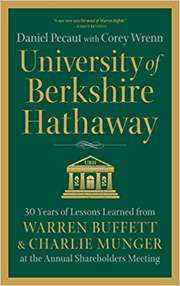 I'm currently reading University of Berkshire Hathaway: 30 Years of Lessons Learned from Warren Buffett & Charlie Munger at the Annual Shareholders Meeting by Daniel Pecaut and Corey Wrenn. As opposed to a rehash of the BRK shareholder letters, it contains highlights from listening to Warren Buffett and Charlie Munger live during the shareholder meetings in Omaha, Nebraska from 1986-2015. (The equivalent of a live Beyonce or Springsteen concert for investing geeks.)
I've always appreciated that Buffett and Munger are very rational and practical people, and one theme that I picked up from this book was the concept of absolute vs. relative standard of living.
What is enough? You've probably heard some variant of the phrase "live like a college student" when talking about how to save money. I certainly used this tactic successfully for many years, and Buffett explains why it makes sense:
Buffett contended that the average college student has the same standard of living as he does. Same food. No important difference in clothes, cars, TVs. After you have enough for daily life, all that matters is your health and those you love. Likewise in work, what really matters is that you enjoy it and the people with which you work. Munger concluded humorously, "What good is health? You can't buy money with it."
Ask yourself: Does this make me healthier? Does this let me spend more time with the people I love? Does it give me valuable knowledge? Think about how a large portion of the luxury world exists without actually improving your quality of life: luxury cars, designer clothing, fancy purses, fancy watches.
Stop comparing yourself to others. Buffett reminds us that envy is the worst among the seven deadly sins. You feel miserable with no upside at all. (The rest are gluttony, greed, lust, sloth, wrath, and pride.)
If someone else is getting rich, so what? Someone else will always be doing better. He asserted that the notion that an investor or investment manager should be "required" to beat everyone else is nonsense. The real key is to know what you really want to avoid and give those things a wide berth (such as a bad marriage, an early death, and so on). Do this and life will go much better, he advised.
I think this concept is under-appreciated in the investment world. You manage to lose a little less money than a benchmark and you still "win"? Think about the people who have quietly gotten rich with rental properties. They don't worry about benchmarks, they just make sure the rent checks come in and the building is maintained. When they can, they buy another property. Over the long run, it works out just fine. You could do something similar by regularly buying a Vanguard Target Retirement Fund, Vanguard Balanced Fund, or even Vanguard Wellington Fund.
Money vs. Quality of Life. Make no doubt about it, Buffett enjoys having a lot of money. I imagine he treats it like a video game with dollars instead of points. However, he separates money and quality of life. That's what has let him decide to give almost all of it away to charity. He's donated over $27 billion already, with a total amount that could be over $100 billion (depending on the future value of Berkshire stock):
Buffett added that as far as he's concerned, he hasn't given up anything. He hasn't changed his life. He couldn't eat any better or sleep any better, so he really hasn't given up anything. Someone giving up a trip to Disneyland to make a donation is the one making a real sacrifice.
These simple quotes can provide a basic outline for early retirement. First, try your best to stop comparing yourself to others, as that's a game you'll never win. Besides, if you act and spend like everyone else, then you'll be working as long as everyone else. Next, decide what kind of daily lifestyle is "enough". Does that require spending $30k a year? $50k a year? $80k a year? Now work to save 25 times that amount. $30k a year = $750,000. $50k a year = $1.25 million. (You might want to revisit the "enough" question after doing this multiplication…) That's a nice rough number. Now work on the income side of the equation while keeping your spending side in check. In the meantime, enjoy your awesome quality of life. Appreciate the good stuff like nourishing food, hot showers, comfortable beds, nature, air conditioning, friends, and family.