A regular reader Don sent me a post entitled Long Term Buy And Hold Is Still Bad Advice. Okay, fine, everyone and their mom has been telling me this recently. But I read it, and it was such a bad analysis that I had to rebut it here. I think Mish writes a lot of useful and thought-provoking stuff on his popular blog, but he really missed a big error here.
First, a recap of the post. Basically, a guy called "TC" has the idea of comparing S&P 500 returns vs. that of 6-month CDs. I'll ignore the fact that this has been done many times already. But wait! He comes up with a startling conclusion. For long periods of time, the S&P 500 has actually lagged or been about equal to the returns of safe and steady 6-month CDs. (!!!) His graph: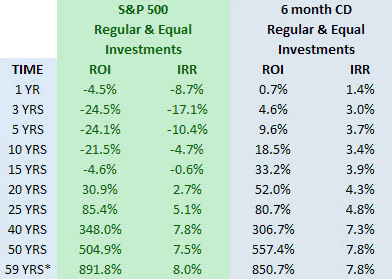 Keeping my parents in mind, you're probably wondering how someone did by simply investing in 6 month CDs. The answer is for any holding period of less than 25 years, a stock market investor who made regular and equal contributions has actually underperformed a CD investor! Yes, you read that right for time periods of 1 – 20 years a CD investor outperformed the stock market by 1.6 to 20.1 annual percentage points.

Additionally, if one extends the time window to 50 years (clearly "long term") CDs again have outperformed the stock market by 0.3 annual percentage points. Even when one extends out the time period to the full 59+ years (the start of the S&P 500 index); the stock market has outperformed short-term CDs by a mere 0.2 annual percentage points – not much of an equity premium.
The sky is falling! Oh wait, there's a little fine print.
TC is ignoring dividends
Let's bold that. The analysis and data above completely ignores the dividend return of the S&P 500. This is like buying an investment property and ignoring the rent payments coming in. What? There are checks coming in every month from the tenants? Nah, let's not cash those.
Let's take a look at the historical dividend yield of the S&P 500, courtesy of Bespoke Investments: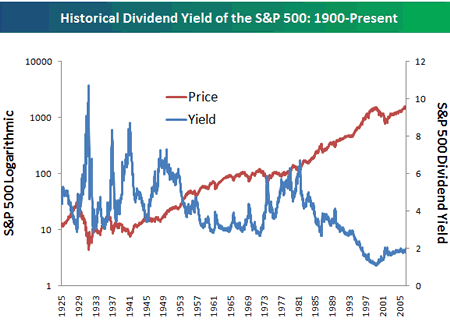 For the periods compared above, the a true owner of the S&P 500 has earned 2-6% annually from dividends alone, with a long-term average of 3-4%. Now, if you add another 3-4% to the analysis above, you see again the long-term equity premium. Instead of 8% vs. 8%, it'd be more like 12% vs. 8%. That's an enormous difference.
(I also wonder where TC got his/her data for historical 6-month CD rates. Are these averages, since every bank offers vastly different rates, and doesn't report them to a central bureau? How does one get the average 6-month CD rate across the country in 1959? Usually studies like this use 6-month US Treasury Bill rates instead, as the data is reliable and widely-accepted.)
Massive Conflict of Interest?
Another argument given as to why buy-and-hold is bad is because there is a conflict of interest between investment advisors and their clients, as they have a "vested interest in keeping clients 100% invested 100% of the time, even if they know it is wrong."
Actually, brokers get paid the more you trade than anything else. They earn money based on total assets, but a huge chunk is from commissions. This means convincing you to buy stocks when they're hot (tech stocks)…. and then sell them (cash!)… and then buy others (mortgage-backed securites)…. and then sell them (cash!)… and then buy new ones. Like right now, they'll happily sell you gold or some non-scary bond funds!
True buy-and-hold means very little trading. At Vanguard, I buy-and-hold(-and rebalance) for a total cost of about 0.20% of assets annually. That's $20 a year per $10,000 invested. Guess what the average expense ratio of a money market fund is? According to Lipper Inc., it was 0.60% at the end of 2007. The Vanguard Prime Money Market fund (VMMXX) has an expense ratio of 0.28%. The S&P 500 fund (VFINX) charges 0.18%. Even at Vanguard, they actually get less money from me if I hold stocks instead of cash.
Same Old Story
In any case, I grow weary. Bonds have outperformed Stocks both recently and other times in the past, even if people ignored it. This is why investors need to have a balance of both stocks and bonds/cash, not just 100% one or the other. If you needed the money soon, then you should have been at the most 60/40 in stocks/bonds, if not even more conservative. In that case, your portfolio would have dropped about 15% over the last couple of years up until today, and you'd be worried but not broke.
If you use the correct numbers (ahem), stocks still have higher historical returns over extended periods, with many rocky patches. We balance this knowledge with the also-historically steadier but lower returns of bonds and cash. That's really about it. As for the future, nobody knows, as much as they'd like to suggest they do.