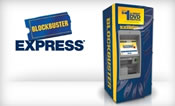 Groupon has a nationwide deal again that will get you five one-day rentals at Blockbuster Express kiosks for $2. The regular cost would have been $5. I don't really get the limitation of one per person when you can buy seemingly unlimited as "gifts". By the way, Blockbuster Express kiosks are owned by NCR, not the Blockbuster Video that is in bankruptcy.
Note: You can only use one free code per transaction. In order to use all five promo codes you must rent (and check-out) five separate times. I tend to use these Blockbuster kiosks more than Redbox ones simply because they are at Safeway grocery stores, but the idea is basically the same.
If you don't have a Groupon account already (what!?), please use my sign-up link, and I'll get some Groupon credit for referring you. Then visit the deal link. Thanks!
Valid through May 1, 2013. Limit 1/person, may buy more as gifts. Valid only at any Blockbuster Express kiosks and for online reservation for pickup at kiosks. Not valid on Blu-ray or Hot List titles. Groupon value reduces by $3 after 5/1/2013, except where prohibited by law.