An extension of the new Live.com Search Engine cashback system mentioned previously, it has been discussed ad nauseam here, here, and here. At first glance, I thought it would be a short-lived misprint/typo kind of deal, so I didn't bother. It did disappear, but now it is back, so I guess Live.com is consciously choosing to continue with this promotion (for now).
In short, the cashback system is currently offering 25% off any item purchased on eBay, provided it is bought using the "Buy It Now" feature and using PayPal for payment. There is a limit to $200 in cashback per purchase, with a maximum of 6 purchases. Fine print is here. A quick and dirty walkthrough:
1. First read up on the general idea of Live.com cashback. You'll need to wait 60 days to withdraw the cashback. If interested, sign up for an account.
2. Click on this link, this link, or this link. Look for the following:

3. Click on the circled link, which will send you to eBay. Find an item that you want with the Buy It Now option and that accepts PayPal. Click on "Buy It Now". You should see this icon on the next screen: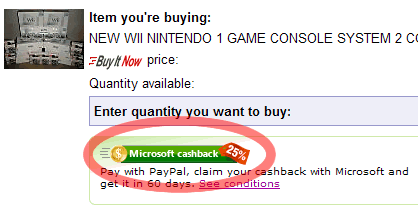 4. Check out and pay with PayPal. You should get an e-mail or message from eBay with confirmation afterwards.
Clever people have been buying highly liquid items like gold, silver, and popular gift cards at 25% off. However, supply and demand has driven many prices up, making it harder to find profitable opportunities. Isn't economics neat?