Now that we have a home that we plan to stay in for a while, we are considering buying a chest freezer to place in the garage. Growing up, a lot of my friends with larger families had either a chest freezer or a second refrigerator in the house, and I'd rather not have another appliance inside the house. Also, I love the convenience of frozen foods and our current freezer is always packed. Is the worth the investment? Here is a quick cost/benefit analysis:
Costs
There is the obvious upfront cost of the freezer, monthly electricity costs to run it, hopefully minimal maintenance costs, and I suppose we'll lose the space in the garage. Here is the rough breakdown for various sizes of chest freezers (Energy Star rated, name brand):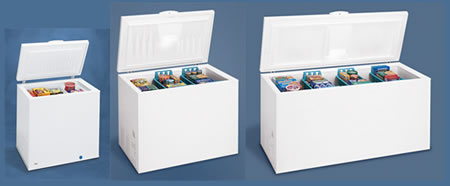 7 ft3: $210 + $25/year in electricity. Assuming 10-year life, that's $3.83/month. For a 20-year life, that's $2.96/month.
15 ft3: $410 + ~$38/year in electricity. 10-year life: $6.58/month. 20-year life: $4.88/month.
25 ft3: $710 + ~$52/year in electricity. 10-year life: $10.25/month. 20-year life: $7.29/month.
Potential Benefits
Less Eating Out
To be honest, I really just want to stock up on a large variety of frozen foods so that there is less of the daily question… "What am I going to cook for dinner?". Too often, the answer ends up as "let's get take-out". I want staples like frozen chicken breasts and veggies, as well as having a few Trader Joe's pizzas and burritos tucked away.
Ability To Stock Up During Sales
If there is a sale on something like frozen vegetables, now I can buy in bulk instead of waiting around for the next sales cycle. You can also freeze everything from bread to milk.
Storing Fresh Fruit
You can do some fun (and cheap) U-Pick at local farms during the summer and not have to eat it all at once. Blueberries, strawberries, peaches, yum. Home gardeners can do the same.
Less Shopping = Less Driving = Less Gas
I try to grocery shop in conjunction with commuting or other errands, but living in suburbia has still definitely increased my fuel usage.
Buying Half A Cow
Although I've never done so, it might be cool to buy a whole cow. I guess I'd need one of the bigger freezers for such an undertaking.
Cooking In Bulk
I have tried a few times to cook an entire week's food ahead of time, but I'd often run out of freezer space. Also, this way one can make their own soups or stocks in large batches. My mom always used to freeze her homemade chicken stock into "pucks" using old margarine tubs.
In addition, there are also the make-your-own-takeout places like Dream Dinners and Super Suppers, which I have never tried before because I never had that kind of freezer space.
I would imagine that I should be able to make up the $5-$10 a month in costs, especially if I can cut down on the dining out. Everyone I know with a chest freezer likes it. Anyone out there disagree?