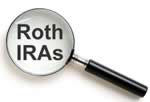 It's getting very close to April 15th, which in addition to tax returns is also the funding deadline for IRAs in the 2009 tax year. A reader wrote in asking whether they should dip into their savings in order to fully fund their Roth IRA contribution for the year. I would imagine this is a common scenario this time of year.
Let's say that your income is under the phase-out limits and you can contribute the full $5,000. (See this IRS page for more info on limits.) Perhaps you've contributed $3,000 so far. You can either take the remaining $2,000 out of your other accounts (emergency fund, car repair fund, sell stocks, etc.) and fully fund the entire $5k, or simply stop where you are.
An important fact to know here is that anyone can withdraw their Roth IRA contributions at any time, without penalty. (This means just your original contributions, not any earnings on those contributions.) However, you cannot retroactively make contributions to past years. In my example above, you couldn't just contribute $5,000 + $2,000 = $7,000 next year.
Thus, if you feel that you would likely be able to max out in future years, it may be better to simply make your contributions now. It would be quite sad to miss out on a one-time opportunity for tax-free earnings forever! If you do need the money later, you can always withdraw it again. The early withdrawal process is not that complicated, although you will have some additional paperwork to fill out come tax time.
More details about the actual IRS fine print in this post: Can I Really Withdraw My Roth IRA Contributions At Any Time Without Tax Or Penalty?
There are always some possible wrinkles, of course. If it is truly an cash-under-the-bed emergency fund, you should know it make take a few business days to make an IRA withdrawal. In addition, if you really do foresee needing the money, then you may want to invest in conservative options like CDs or money markets. If you are selling stocks, you may be subject to taxes on capital gains. But you buy the same stock in the Roth IRA, you'll be able to defer taxes on future gains.