I ran into a friend today that has been unemployed for a while. He seemed pretty beaten down, and doesn't even really seem to be trying anymore. "1 out of every 10 people can't find a job." Almost like that stat made it okay. Well, it does seem like a huge amount of people. Is there less stigma attached to being unemployed now?
However, he does have a degree and some experience. This reminded me of a graphic in Businessweek of the benefits and costs of college. They compared unemployment rates when separated by level of education. People who don't have a high school diploma have triple the unemployment rate of someone with at least a bachelor's degree.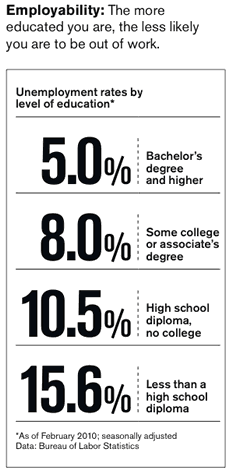 You can view the original article here [pdf], which also has an interesting chart showing that higher education expenses have been increasing at double the rate of medical care since 2000. College tuition and fees are up 92% (!) since 2000. That trend simply can't continue… can it?