Previously, I wrote about Ally Bank CDs and how they offer flexibility in the case of rising interest rates. I finally found the time to do the analysis of the 5-year CD that I wanted to do. In particular, I felt that the current yield curve and short 60-day early withdrawal penalty make this certificate of deposit very attractive.
The current Ally Bank 5-year CD yields 2.00% APY (as of 1/05/15). Rates change constantly, but let's assume you have a certificate of deposit from any bank paying 3.09% APY with an early withdrawal penalty of the last 60 days of interest. (3.09% APY = 3.04% rate compounded daily.) Here's how your actual annualized interest rate would fluctuate given your holding period.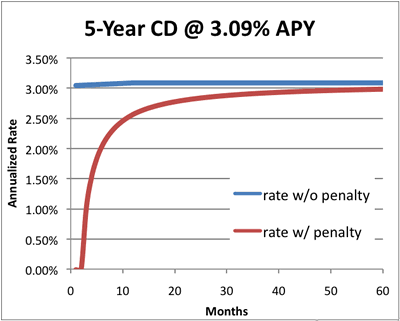 Some very interesting realizations come out of this:
After only 4 months, your annualized rate is 1.52%. (Essentially you 2 months out of 4, which is half of 3.04%). This isn't bad at all, considering their liquid online savings account is currently paying 0.99% APY (as of 1/05/15).
After 1 year, your annualized rate is 2.57%. The current 1-year CD is currently paying 1.05% APY(as of 1/05/15). I can't find any bank with a 1-year CD paying anywhere close to 2.57% APY. Try to find one!
After 2 years, your annualized rate is 2.83%. Ally's current 2-year CD is currently paying 1.29% APY(as of 1/05/15), although it does have a Raise Your Rate feature.
After 3 years, your annualized rate is 2.91%. The current 3-year CD is currently paying 1.40% APY(as of 1/05/15). At this point, a few banks offer a similar rate, but this is still amongst the top. The only better one I could find was PenFed which was slightly better at 3.00% APY.
Final benefit: No minimum opening balance!
As icing on the cake, you can buy these CDs in increments of as little as $1. Now, I wouldn't abuse their policy, if only to avoid the trouble of keeping track of them all. But let's say you have $50,000 to put aside. You could buy five $10,000 CDs, and so if you must make a withdrawal of $10,000 you'll just "break" one CD and have the other four intact. For more modest total amounts, you could go into smaller increments, for example at $1,000 a piece.