As 2010 draws to a close and the champagne is all gone, here's an update on the status of our personal financial goals. I've been on the fence for a while about whether to continue our detailed net worth updates, and I've decided to reclaim some privacy and stop doing them in the previous format. Instead, I'd like to keep tracking our progress but in a opaque manner where I think everyone can still calculate their own and compare with us if desired. I'm not sure exactly how to do this, but here is a rough outline.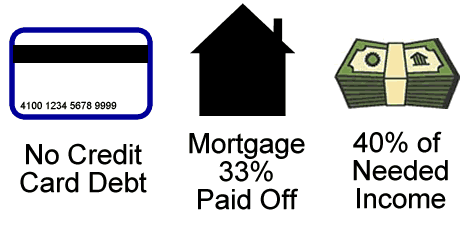 Credit Card & Consumer Debt
I think the first part of any healthy financial status should be to outline and pay off any consumer loans. We do use credit cards, but we pay our balances in full each month. We don't have any auto loans or other forms of consumer debt.
I used to take money from credit cards at 0% APR and place it into online savings accounts, bank CDs, or savings bonds that earned 4-5% interest, and keeping the difference as profit while taking minimal risk. (By this I meant that the risk was dependent on my own actions.) I could have also used such 0% loans instead of other debt like student loans. However, given the current lack of great no fee 0% APR balance transfer offers, I am currently not playing this "game".
Retirement Portfolio
As far as financial freedom goes, there are a number of ways to fund your living expenses without working. Pensions, Social Security, stocks, bonds, real estate, and so on. For us, I have boiled down "financial freedom" to be two things:
Part 1: Accumulate 25 times annual (non-housing) expenses
Part 2: Own my house / Pay off mortgage
I think it's important to note that these two parts don't necessarily have a number attached to them. Minimizing expenses are just as important as increasing portfolio size, as well as minimizing the amount of house that you "need". More detail can be found in this post entitled A Quick & Dirty Plan To Reach Financial Freedom.
For Part 1, the basic idea is to assume that a portfolio can return 4% annually with adjustments for inflation. So if you have $1,000,000, that would create $40,000 a year. The exact implementation of this is more complicated, as there are several ways to help avoid portfolio depletion like annuities and adjusting your withdrawals during market downturns. Most folks won't need a million dollars, though, if they have already paid off their house. For example, if your non-housing expense are only $1,000 per month, then you'd only need 12 x 25 = $300,000.
Back in July I was 33% of the way to reaching this goal. We are now 40% of the way. At this pace, we could finish Part 1 in less than 10 years, but we will likely scale back our income when we have kids. We'll have to keep a close eye on those expenses as well.
Housing & Mortgage
Owning a house isn't for everyone, but I think that if you are geographically stable, it can be a great way to become financially independent. Once you pay off the house, then your housing "expense" is mostly taken care of. (There is still maintenance and property taxes.)
We have owned our house for about 3 years now, having taken out a 30-year fixed rate mortgage initially with a 20% downpayment. Since I want to retire before I'm 50, I need to speed things up. Over the past year, we have made additional payments toward principal, as well as lowered the interest rate to 4.75%. These prepayments have been irregular lump-sum amounts, although I agree an automated plan is easier to maintain. The outstanding loan principal is now 67% of the purchase price. If we were to continue the original minimum-required payments, our home would be now be paid off in 21 years. This is good, as we can support that payment on one income.