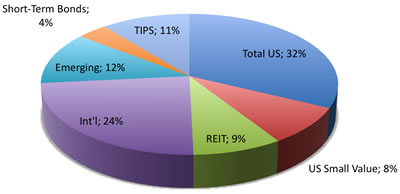 Retirement Portfolio
Actual
Target
Asset Class / Fund
%
%
Broad US Stock Market
32.2%
34%
VTSMX – Vanguard Total Stock Market Index Fund
DISFX – Diversified Stock Index Institutional Fund*
FSEMX – Fidelity Spartan Extended Market Index Fund*
US Small-Cap Value
8.7%
8.9%
VISVX – Vanguard Small Cap Value Index Fund
Real Estate (REITs)
8.7%
8.5%
VGSIX – Vanguard REIT Index Fund
Broad International Developed
23.8%
25.5%
FSIIX – Fidelity Spartan International Index Fund*
International Emerging Markets
12.1%
8.5%
VEIEX – Vanguard Emerging Markets Stock Index Fund
Bonds – Short-Term
3.7%
3.8%
VFISX – Vanguard Short-Term Treasury Fund
Bonds – Inflation-Indexed
10.8%
11.3%
VIPSX – Vanguard Inflation-Protected Securities Fund
Total Portfolio Value
$120,016
* denotes 401(k) holding given limited investment options.
2009 is already over one-fourth over, so I think it's a good time to check on the ole' battered portfolio.
Contribution Details
In early 2009, we each made a $5,000 contribution towards our non-deductible IRAs for the 2008 tax year, for a total of $10,000. We have also contributed $12,969 so far into our 401ks through regular salary deferrals and the company match. We haven't made any after-tax investments in our portfolio yet.
YTD Performance
According to my spreadsheet, the 2009 year-to-date time-weighted performance of our personal portfolio is -15.5% YTD.
For reference, the Vanguard S&P 500 Fund has returned -6% YTD, their FTSE All World Ex-US fund has returned –6.36% YTD, and their Total Bond Index fund is -0.13% YTD as of 12/8/08. The Vanguard Target 2045 Fund has returned -4.70% YTD. Part of the poor relative performance is probably due to the timing of my large lump-sum investments.
Investment Changes
We have used our new contributions to bring us closer to our asset allocation target, with a 85% stocks/15% bonds split.
You can view all my previous portfolio snapshots here.