I should really stop looking at CNN.com and CNBC.com, but nobody will stop talking about it so here I am talking about it too. Moo. 🙂 If you watch your portfolio closely and are feeling nervous and/or scared, then perhaps this is a good time to self-reflect and ask yourself if you are as risk tolerant as you thought you were.
Many financial experts like to give out a simple "risk questionnaire" to figure out your risk tolerance, and then guide you into an asset allocation afterwards. The problem is, it is really easy for people to say "I'm not scared!" and then tell themselves they don't need to save as much. The more you save, the less risk you need to take. Back when stocks were booming, so many folks had 100% in stocks, and even some retirees had 60-70% in stocks.
Back in 2006, I tried out a bunch of these risk surveys and remarked that
I think it's really hard for people to gauge how they would react to losing 30% of their assets in a year unless they had actually experienced it.
I still don't think we have experienced true fear yet, but maybe now is a better time to take the survey questions again? These samples are taken from the ShareBuilder website's PortfolioBuilder application.
Sample Question 1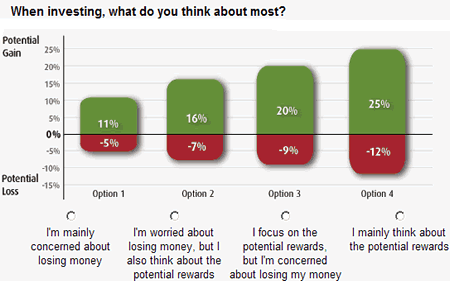 Well, the year-to-date total return of the S&P 500 is only about -12% as of the end of today. It was about -15% yesterday.
Sample Question 2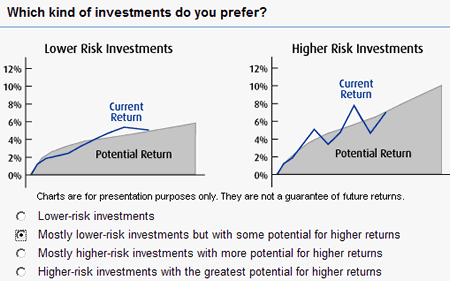 The recent bouncing around puts this question in a new light, eh?
Sample Question 3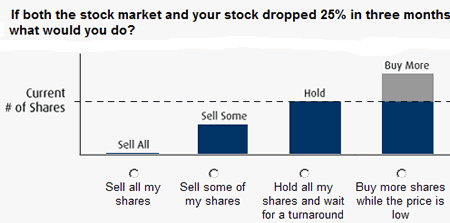 Even now, we are nowhere near dropping 25% in 3 months. Are you sure what you would do?