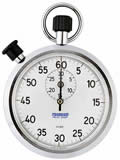 Do you feel you aren't saving enough for retirement? Worse, do you feel like what you should be saving for retirement is some huge number you'll never reach? I think such daunting numbers are what kept a lot of my younger co-workers out of the 401k plan completely.
How about 1% then? Let's see how much 1% is for a household with a single earner making $50,000 gross per year. For simplicity, let's say they live in a state without income tax like Texas. If you are paid bi-weekly, putting away $500 pre-tax annually (1%) into a Traditional 401k amounts to an additional $19 reduction per paycheck. If you do live in a state with income tax, the actual paycheck difference will be even smaller.
I know that even this may be hard for some families, but keep in mind this money is still yours and you're just using the 401k or IRA container to save you taxes. Now, if you're convinced that you can handle this (and I hope you are), then go right now and either fill out the proper form from Human Resources or go online and submit for a change. As for the investment choice, if you are undecided consider just going for the target-date option for now until you learn more.
Most importantly, increase your contributions by 1% today! Now you can say in 2010 you started saving more for retirement.
Fine Print
I kept things simple above so you don't get bogged down. You might be satisfied with your current contributions, or you might want to put away more than 1%. Even better, you might get a matching contribution from your company, which will boost your savings even further. On the other hand, what if my 401k has horrible investment options? Or what if you don't have a 401k/403b at all? You can start an IRA with just a $50 per month commitment with a low-cost provider.
What about Traditional vs. Roth? Check out this Video Post: Roth IRA vs. Traditional IRA.
You may find that if you haven't maxed out your Roth IRA for 2009 or 2010, then you may want to do that instead of the 401k because Roth IRA contributions can be taken out at any time without penalty (but not earnings).
See all the 2010 Instant New Year's Resolutions here.