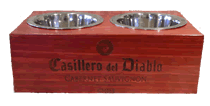 The StartupNation Home-Based 100 is a list of the 100 "best" home-based business. More specifically, it's composed of ten Top-10 lists in these categories: Best Financial Performers, Most Innovative, Highest Vote Getters, Boomers Back In Business, Greenest, Yummiest, Wackiest, Grungiest, Worldiest, and Most Slacker-Friendly.
Many of the businesses seem to be based on an practical idea extended from their existing jobs. Others are hobbies or passions that grew into a profitable venture. Here are some of that I found most interesting to me:
The Welcome Committee. This company will personally greet new homeowners, introducing them to the community and also local advertisers who sponsor them (and I guess the gift baskets).
"Newcomers spend more in the first 6 months than established residents spend in 5 years. In total, newcomers spend approximately $100 billion on move-related goods and services annually. Newcomers have no shopping loyalties in their new community and are eager to receive information for products and services they need."
Lesson: Target a specific situation where people spend unusually large amounts of money. An existing example is weddings.
No Throw. Kids like to throw their bottles. "We have designed a velcro strap that will fit tightly around and hold onto children's bottles and sippy cups. The NoThrow's leash styled handle can be slipped over any seat belt that is attached your child's car seat, stroller, bike seat, high chair, baby-backpack, you name it!." Yes, it's sounds so simple it's funny. But they just got picked up by Walgreens, so they're probably laughing all the way to the bank…
Lesson: Cute, useful things for children are a huge market. We aren't even parents and we just bought 3 different kids toys/gifts within the last week. Baby showers, 1st birthdays, 2nd birthdays…
Whiner and Diner. These guys make raised wooden pet bowls and pet beds. "The products are hand-crafted in the U.S. from recycled wooden wine crates of prestigious European and Californian vineyards."
Lesson: Okay, I know this may sound useless to a lot of people, even some animal lovers. I think they look very nice. (Of course, I put my dog's bowl over a big roll of duct tape to raise it up…) But I really do think high-end pet products are a great idea for a home business. You need a unique product that can't be mass-produced and with a large profit margin to make it worthwhile.