The results of my Emergency Fund survey are in, and appears that there are a lot of big savers out there! 28% of respondents had cash reserves of over 12 months of expenses, and 24% of you had the more-often recommended 4-6 months of expenses.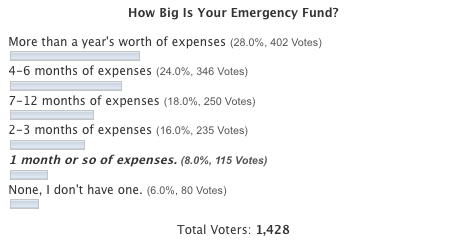 With such sizable cash reserves, where you do guys put it all? I figured I'd share my stash-the-cash choices, which may not be perfectly optimal but I'm open to talking about it. The size of the circles are proportional to how much of my money I keep in each respective account.
With interest rates so low across the board and still dropping it seams, it's been hard to get really excited about many new options. But remember, it can be better to be earning 2% with low inflation than 5% interest in a high inflation environment. Every basis point helps.
Rewards Checking Accounts
You've likely heard of these by now. Usually through local credit unions, these checking accounts pay a higher interest rate if you jump through some hoops each month. However, if you make a mistake you'll forfeit virtually all your interest for that month, so it can be tricky. More coverage here.
One nationally-open example is DanversBank, which offers their Free Rewards Checking currently paying 3.01% APY on balances up to $25,000, provided you satisfy the following each month:
* perform at least 12 debit card transactions (excluding ATMs);
* receive their monthly statement electronically;
* access Online Banking, and
* sign up for direct deposit or receive a recurring ACH transfer
To find a local rewards checking account limited to your area, check out DepositAccounts and use the filters. Sadly, my local account recently dropped their rate significantly.
Long-Term CDs – Ally Bank
If you have a large cushion, it's quite possible (if you're lucky) to not have to touch it for years or more. Therefore, I think it's okay to put some of it in safe investments but slightly less liquid.
With the Ally Bank certificates of deposit, you can still access your money as long as you pay a early withdrawal penalty of 60 days interest. That's significantly less than at other banks. I have a 5-year CD paying 3% APY, but the current rate for new deposits is 1.60% APY for a 5-year CD (as of 10/25/13).
Rates change constantly, but let's assume you have a certificate of deposit from any bank paying 2.39% APY with an early withdrawal penalty of the last 60 days of interest. (2.39% APY ~= 2.26% rate compounded daily.) Here's how your actual annualized interest rate would fluctuate given your holding period.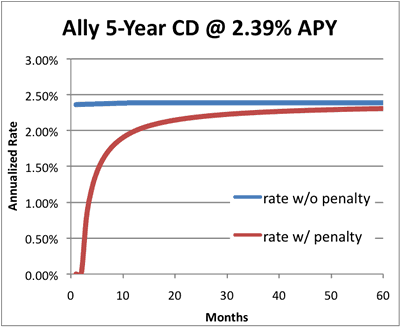 After just 6 months, you'll already be earning 1.58%, more than a comparable 12-month CD. If you somehow had to withdraw after 1 year, you'd still have earned 1.99% APY. Basically, after just 6 months I have nothing to lose and a lot to gain, so I keep a sizable chunk here.
Savings Bonds
I have some older Series I Savings Bonds, but they aren't a very good buy right now. The total rate consists of a fixed rate and a variable rate that adjusts with inflation every 6 months. If you bought a bond now, you'd get a 0% fixed rate and only 0.74% from inflation. However, my older bonds have higher fixed rates, and according to my TreasuryDirect statement they are earning 1.74%, 2.25%, and 2.75% right now. The annual purchase limit is now $5,000 in paper I-bonds and $5,000 in online I-bonds per Social Security Number. I'll keep them for a while, as I like the tax deferral benefits and inflation may come back to bite us.
Online Savings Accounts
Rewards checking account and savings bonds have deposit limits, and you only want to lock up a certain amount in longer-term CDs, so the rest goes into the now-popular online savings account. There are a lot of players out there now, but many of them are packed together with very similar features and interest rates.
Right now the rest of my cash is over at SmartyPig.com, an FDIC-Insured bank account that lets you save for specific goals like an online piggy bank. However, they've added so much flexibility that you can pretty much use them like any other savings account. Their rate has dropped recently from 1.75% APY to 1.35% APY for balances up to $50,000. This is still amongst the top rates, but I'll be watching them closely.
Alternatively, Everbank has their Yield Pledge Money Market paying 1.10% APY for the first 6 months for new accounts. This rate is higher than any 6-month certificates of deposit currently available, while still being available for withdrawals at any time. The rate is guaranteed stay in the top 5% of competitive accounts. Evantage Bank has their Mega Money Market account paying 1.75% APY for balances up to $35k. Most other banks are clustered around the 1% to 1.2% mark.
So… where's your cash?