The January 2010 issue of SmartMoney magazine had a nice little article Target-Date Funds Retool — Again about how those all-in-one Target Retirement funds that nearly all 401k plans have now are almost all increasing the percentage of stocks that are international. They all say this not performance-chasing, but at the very least it's sentiment-chasing. People just aren't all that confident in an predominantly-US portfolio anymore. I like the quote "Were you wrong before, or are you wrong now?".
In any case, the online version left out my favorite part of the handy graphic, so I scanned it in here: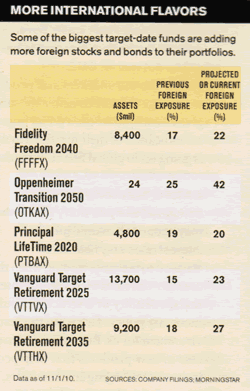 Vanguard announced back in October that it was also following the herd and increasing international exposure for its funds, and a quick look on the Vanguard Target 2025 fund shows the international holding at 20.8% as of 12/31/10. Seems like they are rolling out the change gradually.
I'm always on the fence on these funds. If having one fund keeps people from jumping from one fund to another, these funds can be a net positive. I like simplicity. But you have to watch out for high costs because that will eat away at your return. On the other hand, you can construct your own retirement portfolio out of just a few funds now, and not have to watch these guys follow each other around. Even the Vanguard Target 2025 fund only has 3 funds inside of it.