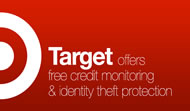 After losing their customers' credit card numbers and other personal data, Target is offering free credit monitoring services at creditmonitoring.target.com to anyone who shopped at their US stores. (Supposedly the data breach "only" affected the 70 million people who shopped at US-located Target stores between November 27th and December 15th, but they also seem to be "discovering" more data lost every week.)
The package includes a complimentary copy of your Experian credit report and 12 months of daily credit monitoring from Experian's ProtectMyID, which includes identity theft insurance and personalized assistance with identity theft fraud. You must sign up for an activation code by April 23, 2014 and redeem by April 30, 2014. ProtectmyID only monitors your Experian credit report for change, including new inquiries, newly opened accounts, new derogatory information (such as delinquencies or medical collections) and more.
This is not part of Target's offering, but for better overall protection (2 out of 3 credit bureaus) you can also get free credit monitoring of your TransUnion credit report at CreditKarma.com. If you only used one card for Target (or everywhere) you can just ask for a new credit card number without affecting your credit history or credit score.