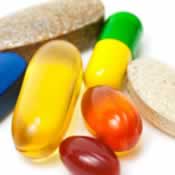 "Enough Is Enough: Stop Wasting Money on Vitamin and Mineral Supplements" is the title of an editorial in the Annals of Internal Medicine that address three different studies released in the same issue about the role of vitamin and mineral supplements in preventing chronic diseases. The abstract:
In this issue, 3 articles address vitamin and mineral supplements for prevention of chronic diseases. […] They conclude that most mineral and vitamin supplements have no clear benefit, might even be harmful in well-nourished adults, and should not be used for chronic disease prevention.
Specifically, beta-carotene, vitamin E, and possibly high does of vitamin A were found to "increase mortality" (not good). The three articles and the editorial were found via the NPR article "The Case Against Multivitamins Grows Stronger".
One review found no benefit in preventing early death, heart disease or cancer. Another found that taking multivitamins did nothing to stave off cognitive decline with aging. A third found that high-dose multivitamins didn't help people who had had one heart attack avoid another.
Steven Salzberg, a professor of medicine at Johns Hopkins says that "The vast majority of people taking multivitamins and other supplemental vitamins don't need them. I don't need them, so I stopped."
I don't think multivitamins are going away, and physicians are still recommending them for certain groups like expecting mothers. But perhaps Sheldon Cooper was right and most of us are just buying the ingredients for "very expensive urine".