To recap the first half of this review, my initial impression of Prosper was that is a somewhat risky investment opportunity with poor liquidity. However, along with the risk of loss comes the potential for a healthy return. Each of us can decide the rates that we wish to lend at. The question is, can I get a return that compensates me adequately for the risk I'm taking? Let's dig into the numbers and see.
What kind of data do we get? What are the fees?
Again, I will focus only on the lender perspective here. My previous conclusion is that I would rely primarily on the credit information given. This turns out to be a letter credit grade (A,AA,B,C,D,E, or HR) derived from the Experian ScoreX PLUS credit score, not a FICO score. They are similar, but the range for a FICO score is 300-850 and the Experian ScoreX is from 300-900. Here are the relationships, as well as the corresponding historical default rates for borrowers with debt to income ratios of less than 20%.
As for lender fees, it's pretty straightforward. You are charged an annual servicing fee of 0.5% for AA/A borrowers, and 1.0% for B-HR borrowers. So whatever your final lender interest rate is, 0.5-1.0% is automatically taken off the top. This was raised recently from the old rate of 0.5% across all loans.
How are the outstanding loans doing so far?
One of the reasons I didn't loan any money on Prosper initially is because I simply didn't trust myself or others to set the correct interest rates. All I had was the Experian chart above to try and estimate defaults, and that just didn't seem enough. Would borrowers treat Prosper with the same respect as Citibank or Bank of America? Would the rates be too low due to an excess of lender money?
The bad news is that Prosper is barely one year old, still too young to make reliable judgments in my opinion. The good news is that Prosper does release what data it has. One thing you have to watch out when looking at the numbers is that many of the loans are so new that there simply hasn't been time for them to default. A loan originated on January 1st won't have its first payment due until February 1st, and it won't be able to be considered late until March 1st. For an official default, it has to be 4 months late, or June 1st! And that's only if not one single payment is ever made.
Therefore, I want to look at loans that are at least a few months old. I choose two periods to look at – loans originated in the 1st half of 2006, and loans from the 2nd half of 2006. Let's see how those loans have done as of February 1st, 2007.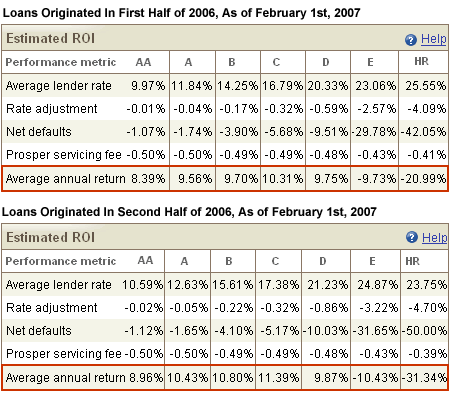 See here for definitions.

Not so good…
From these results, it seems that lenders as whole did a horrible job pricing the sub-sub-prime market. Sure, they charged them a fat 25% interest rate, but the default rate was so high that the net average return on an HR loan was -21% to -31%?!?! Ouch.
I've seen a lot of people recommend diversifying their credit pool to include everything from AA to a few HR borrowers. If people lent an equal amount of money to each of the seven grades, their aggregate return would have been a measly 2% – not exactly inspiring.
Although the actual ROI calculation is a complicated formula with different definitions, I think it's safe to say that the default rates are going to be higher than what Experian predicted (reminder: those stats assume a debt-to-income ratio of 20%). For the HR loans from the 1st half of 2006, already 19% of original loan amounts and 24% of outstanding balances are more than 1 month late. Keep in mind, after one month of being late, the account is sent to collections. According to their own data, only 20% of balances sent to a collection agency are ever recovered. The rest are considered in default and are wholesaled to debt buyers for ~10 cents on the dollar. These loans are only 7 to 13 months old, leaving more than half of the 3-year term left!
On the positive side, the AA through C credit range seems to be the better bet, giving net returns around 10%. Keep in mind that although the C grade has a higher average return, due to the delinquencies the scatter in actual returns will most likely be wider than for an AA loan. Some people might catch a big wave of defaults, while others may get off without a scratch. One will need to get a large number of these loans in order to smooth out the bumps.
Also, I would note that these B-HR loans have the lower 0.5% Prosper servicing fee, while any new B-HR loans will be hit with a 1.0% Prosper servicing fee. Looking at the chart, this actually makes the return for the B loans worse than the A loans. Although the market might react accordingly and raise the B lender rates, I would still personally stick to the AA to A range.
Is that all the bad things? Unfortunately, No.
There is yet another way that your return is lowered. Before you can bid on any loans, you must have the money first sitting in a Prosper account where it is earning zero interest.
Times when you're not making any interest:
From your bank account to Prosper – four business days, which is 4-7 actual days.
While waiting to find a good loan to bid on – varies.
While waiting for a loan to finish taking bids – some listings close when funded, otherwise they last for up to 10 days.
While waiting for selected finished listings to pass "review" – up to 7 business days after the bidding is closed, or up to 9 actual days.
Finding out that the listing didn't pass review, and having to start over again – varies.
Time for the borrower's payment to reflect in your account – another few days
From Prosper back to your bank account (if you wish) – another 4-7 actual days.
Depending on how vigilant you are, all this idle time where your cash is just sitting there can easily shave off another 1-2% from your net rate of return. Prosper states that it cannot pay interest for legal reasons, but I think they can work around this by getting rid of the extra accounts and instead making faster, direct ACH transfers from people's bank accounts. If it's good enough for the borrowers, why not the lenders?
Another slight concern is prepayment risk, when a borrower pays off the loan ahead of time. For example, interest rates might drop, and the borrower may find a better deal elsewhere. Even though you can reinvest the money, you're still facing the extra lag time to find another listing, bid on it, pass review, and fund.
Finally, will Prosper be around for the length of your loan? At $40,000,000 in loans, if it makes 2% of that, we're talking about $800,000 a year gross. There is no way they are profitable right now. I think they will make it, but going out of business remains a possibility.
You're such a downer. Tell me some positive aspects!
Well, you can also screen loans in a variety of ways in addition to just credit grade. For example, you could allow only a certain number of delinquencies or set a maximum debt-to-income ratio, or allow a group leader you like to do the screening for you. Some people read the listings very carefully and believe they can filter out the good eggs from the bad. Other dig deep into the data and try to find some inefficiencies to exploit. I'm skeptical, but who knows.
In the end, if you stick exclusively to AA-A borrowers, manage your cash carefully, and the default rates don't keep rising, you may achieve average net returns of about 8%. I would recommend committing at the very least $1,000 (20 loans of $50) to avoid your return being crippled by one or two defaults.
Also, many people seem enjoy the recreational aspect of Prosper. If you get entertainment out of it, more power to you. I personally hate the idea of somebody running off with my money. I'll stick to skiing – it's more expensive but it keep me healthier and the scenery is much better 😉
Conclusions
If you are willing to invest a good deal of time and money to analyze the data and make enough loans to spread out the risk, I definitely think there is an opportunity to make positive returns. I have not properly analyzed the volatility, but I think if you understand the risks and still want to lend on Prosper, go for it.
However, I am personally not interested. Given the risk and return information so far, I'd much rather stay with stocks. Prosper simply doesn't tickle my fancy, I feel it's far too much work and every time I'd see a late payment I would get annoyed. I do think that Prosper is trying to improve it's service, and has already made several adjustments since they started. Perhaps someday I'll change my mind; I'll check back after another year.