I was trying to run some more recent numbers to update my most recent concerns regarding person-to-person loans at Prosper.com. Essentially I was wondering if the loan performance would continually get worse over time. I was curious because it's one thing to advertise 8-12% returns when the loans are new, but what really matters is the performance at the end of the 3-year term.
While trying unsuccessfully to churn those numbers, I ran across this related chart from the very analytical Prosper lender Fred93's blog. The graph is essentially % of loans defaulted vs. loan age. Fred93 explains further:
These charts show statistics for the performance of all prosper.com loans. Each curve represents the set of loans that were created in one calendar month. The vertical axis is the fraction of those loans that have "gone bad", in other words are 1 month late or worse (up to and including default). The horizontal axis is now days since month of loan origination. All data comes from Prosper.com's performance web page.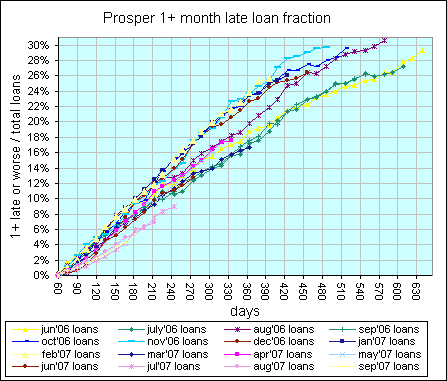 If you look out one year from origination (ie 360 days) you will see that about 20% of Prosper's loans have gone bad. You can also see that this is remarkably consistent from month to month (ie the different curves). One can only conclude that the default rate of Prosper loans is in the neighborhood of 20% per year. Loans originating after Feb'07 are going bad at a slightly lower rate, probably because Prosper increased the minimum credit score required for a Prosper loan at that time.
I learned also that he makes these conclusions because (1) historically over 85% of Prosper loans that reach 1 month late eventually go into default, and (2) the recovery rate after being sent to collections is terribly low. Together, you have his statement that ~20% of loans go into default each year. For a three-year loan, that ain't good!
The slope (default rate) does seem to be slightly lower for the newest loans, but what concerns me the most is the constant linear deterioration of loans. This confirms my fear that loan performance consistently gets worse as the loan ages.
Now, I know this chart doesn't tell the whole story, but I do think P2P lending is still very new and has a lot of growing pains to overcome. For borrowers, it can be a great deal. But as much as I want to be grabbing some solid returns this way, I'm still wary of committing significant money given this information.
(I haven't found similar numbers for competitor LendingClub yet. They are still young, but they seem to be doing better in defaults so far. I'm waiting for more loan data to accumulate.)
Related P2P Lending Posts
Update: Here is a simlar graph which is also Percentage 30+ days late vs. Loan age, but broken down by credit grades from RateLadder's blog.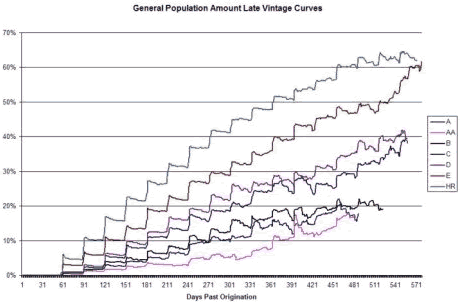 I would say these are the expected results… Percentage of defaults still rise steadily with time, which means your performance is expected to get worse with time. The actual rate of default differs based on credit score. Even AA loans have ~10% defaulted after 1 year.