This is a friendly reminder that you can still get a $25 head start to your child's college fund if you open a 529 account with the Ohio CollegeAdvantage plan and fund with $25 of your own. Not only is the free money nice, but this is actually a very good plan in which I am making monthly automatic contributions.
Rated a Top 529 Plan by Morningstar
In a recent article The Best and Worst 529 College-Savings Plans by Morningstar, the Ohio CollegeAdvantage plan was rated in the top 5 plans: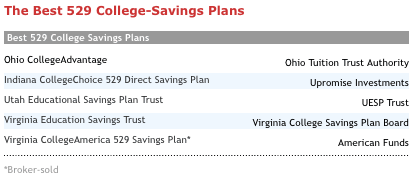 Features they liked included having a wide variety of investment options (including active/passive, multiple age-based options, and even ultra-safe CDs), as well as low total expenses. In-state resident can also deduct up to $2,000 of contributions per year, with excess carryover allowed.
My Investment Choice: Inflation-Protected Bonds
529 plans aren't perfect, and you have to be careful about what you're invested in. This article I found on BH summarizes my concerns well:
…saving for college isn't like saving for retirement. The run-up is much shorter, 18 years at most instead of 30 or 40, so most of the miraculous gains of compound interest are lost. Second, the payout is far more immediate and inflexible. People can choose when to retire, delay if they have to, and ride out ups and down in the market over decades. For most students, college happens three months after graduation, ready or not, and the check is due on Day 1.
I explored some conservative 529 investment options here, and based on my conclusions I am currently putting all my contributions into the Vanguard Inflation-Protected Bond option. This works especially well since TIPS are best held in tax-advantaged accounts.
Refer-A-Friend Bonus Instructions
You can enroll online or via mail. The online process was quick and easy, and I didn't have to mail in anything.
The first step is to input your personal info and choose a login/password. Next, you'll verify your e-mail and complete the application.
After that, you'll choose your funding amount and select an investment fund. Your initial deposit must be a least $25, and is funded using the account/routing numbers of your bank account. At the bottom, you will need to enter a referral code to get the bonus. Enter *.
In 1-3 days, your initial deposit will be sucked out, and in 5-7 business days you will get your $25 bonus. The $25 will be deposited directly into the 529 account, and will be invested in the same thing as your initial deposit.

* Number is randomly generated. If you can't see any numbers above, please use 2483590. With this program, both the newly referred and the referrer get $25. As promised, I have received several referrals from readers, and have thus included their referral codes to be shared here. I probably won't have time to do it again for this promotion, but keep your eyes out for future similar offers.