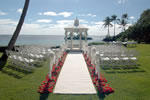 Money magazine has an article this month about how many married folks don't know the details about their spouse's finances. In one study, half of the pairs questioned came up with completely different answers when asked to estimate their family's income and net worth. Are you and your partner similar? A quiz was included that is designed for each partner to take separately. Here are the quiz questions, as well as the answers that my wife and I gave.
How much money did your spouse make last year, including salary, bonuses, commissions, and freelance pay?
Me: I did the taxes, so I got this one correct.
Her: She was about 20% below my actual gross income last year. She reads this blog, so she know the after-tax and after-spending results, but I guess she underestimated how much in taxes we get hit with. Also, I have variable side-income which is not easy to track.
What's the last big purchase (more than $100) your spouse made, and how much did it cost?
This is a tricky question. Is this a purchase meant solely for ourselves? Although it's not like we never spend money, we both had a hard time remembering the last time we bought a $100+ item for ourselves, like a purse or a gadget.
Me: I remembered that she bought a plane ticket for work-related opportunity for $300 yesterday.
Her: She noted that I gave a $100 gift for a friend's wedding (from the both of us) last week.
How much does your spouse owe, counting credit card balances, car loans and another other debt, aside from your mortgage?
Me: Nothing (correct).
Her: Nothing (effectively correct, if you ignore making money with 0% balance transfers).
What is the current value of your spouse's 401(k) or other principal retirement account?
Me: About $15,000. This is actually incorrect – it is more like $25,000. I forgot that she had been working at this job for two years already. Oops! This is kind of sad, considering I actually check and record the balance every month in a spreadsheet for our net worth updates.
Her: $15,000. My Solo 401k is actually around $23,000. She admits that this was a wild guess.
If your spouse passes away, how much will you collect in life insurance (counting both workplace and individual policies)?
Me & Her:: We both currently have ~$300,000 each in mostly-subsidized life insurance through work. We have been discussing life insurance in general recently and were looking into getting individual term life insurance policies, although we've been "looking" for months now. 🙁
Overall self-grade as a couple: B. We weren't completely clueless, but there is a lot of room for improvement. I think there is a good chance that a lot of people who read this blog have significant others who are not quite as interested in finances as they are. So why not give them this quiz and see how they do? It definitely helped us get closer to being on the same page.