LendingClub requested an opportunity to clarify the Net Annualized Return measure and overall Lending Club performance discussed in my updated analysis based on historical return data. I'm just going to go ahead and share it in its entirety. The following is provided by from Renaud Laplanche (CEO) and Rob Garcia (Sr Director of Product Strategy).
Is Average Net Annualized Return Meaningful?
The first question raised was whether or not the aggregate 9.64% net annualized return is representative of a track record that is long enough to be meaningful, considering that it includes many loans issued recently. This is a valid question, and we believe the answer is positive: the average age of the Lending Club portfolio is around 12 months and, considering that it takes 4 months for a loan to default, a 12-month average age is really reflective of an 8-month track record. In a 3-year unsecured loans portfolio, defaults typically occur faster in the first 6 to 8 months, after which they start to level off. See for example data provided by our friends at ZOPA, who service a portfolio with characteristics similar to the Lending Club portfolio.
While Lending Club does not have as much history as ZOPA does, we have seen similar default behavior in the first 6 to 8 months of a loan portfolio's life. We therefore believe that the current 12-month portfolio is a meaningful proxy to gauge overall annual performance, and that performance improves over time as defaults level off (see the Net Annualized Return performance curve over a 3 year period below). The credit policy improvements outlined below makes the displayed performance even more meaningful.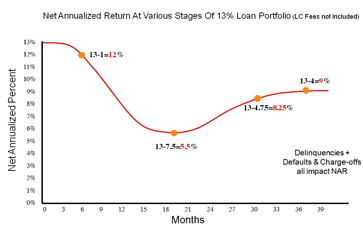 Is Performance of 2007 Vintage an Indicator of Overall Lending Club Performance?
The second part of the original analysis focuses on past performance, looking specifically at 2007 and 2008 originations. While it makes sense to review older vintages in general, pre-2009 vintages are not the most indicative of future performance in the case of Lending Club, as the current credit policy has been established in December 2008.

Loans issued in 2007 and early 2008 underperformed, which led us to adopt a more stringent credit policy and higher interest rates in November and December 2008. A performance snapshot of loans issued in 2009 (after the tighter credit policy came into effect, but excluding loans recently issued in 2010) show an average return over 10%: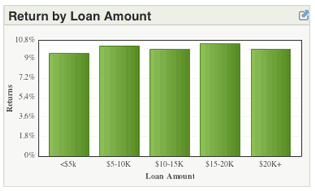 Focusing on loans issued in the first quarter of 2009, which are just over one-year old, the net annualized return is roughly 8%. Based on the default cycle observed above, that performance is likely to improve in Year 2 and Year 3.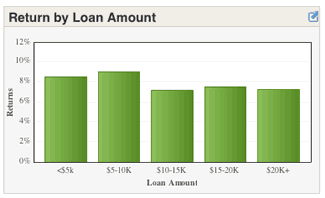 As always, past performance is no guarantee of future results. While it seems adequate to look at the older vintages as an indicator of future performance, only recent vintages with current underwriting criteria are comparable to the loans currently being issued, and therefore more relevant to evaluate Lending Club Notes as an investment opportunity.

Thanks for the opportunity to let us shed some light on how to understand net annualized returns at Lending Club.

Kind regards,
The Lending Club team
I haven't had a chance to create my own formal response, but my overall impression remains the same… I would not count on 9.6% annualized returns over a 3-year term. But hey, if I get even 6% that would be great. I do hope for both LendingClub and investors that the returns do end up high enough to sustain the business model.
New Lender Incentives – Free $25 to Invest
If you are interested trying P2P lending with no risk, you can still use this special $25 lender sign-up link to get a free $25 to try it out with no future obligation. There is no credit check and you don't even have to deposit anything. After you are approved, the $25 will show up in your account balance, and you can lend it out immediately.