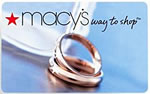 We ended up getting a huge Macy's gift card for our wedding three years ago, and were dismayed when we realized that after 2 years it had died with about $100 still on it. The problem was that for a long time the closest Macy's was an hour's drive away, and every time we went we wanted to spend it all, but just couldn't bring ourselves to buy junk we really didn't need. The card had been sitting in my desk gathering dust until I remembered that gift cards and certificates aren't allowed to expire in California. So I sent the card to my friend in San Francisco, they brought it into Macy's, and after a quick phone call by the clerk a brand new gift card was re-issued. It was resurrected! I let her use it.
I'm not sure if this will work everywhere, but my friend and I mused that this could potentially be a business idea – "Send us our expired gift cards and we will save them… for a fee."
Here's are some links to states that I found with laws that restrict the expiration of gift cards, either with a minimum lifetime of X years or by banning expiration entirely – California, Connecticut, Louisiana, Massachusetts, New Hampshire, Rhode Island, and Washington. Let me know if I missed any.