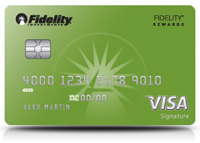 Ending some speculation, Fidelity has officially announced changes to their credit card line-up as of January 2016. Previously, there were three versions of the card issued by FIA Cardservices (subsidiary of Bank of America) – a grandfathered 2% MasterCard, a 1.5% base-tier Visa, and a 2% American Express.
Fidelity has consolidated their offering to a single card – a Visa Signature offering a flat 2% cash back when directed to a Fidelity Investment account, issued by Elan Financial Services (subsidiary of US Bank). All existing credit card links now redirect to this new Fidelity® Rewards Visa Signature® Card. Let's take a look.
Highlights:
Unlimited 2% cash-back, when redeemed into an active Fidelity account.
No annual fee.
No sign-up bonus at this time.
Visa Signature benefits, like Concierge service.
Chip-enabled and works with Apple, Android, and Samsung Pay.
2% cash back details. The 2% rewards value applies only to points redeemed for a deposit into an eligible Fidelity account:
Fidelity Cash Management Account
Fidelity Brokerage account
Fidelity-managed 529 account
Fidelity Retirement account (IRA, Roth IRA, SEP-IRA, Rollover IRA)
The redemption value is different (read: worse) if you choose to redeem your points for their other available options, including travel, merchandise, gift cards, or statement credit. I can't seem to find any publicly-available details yet on these alternative options.
You can either choose automatic or manual redemption. With automatic redemption, once you reach $50 of rewards (5,000 points from net spending of $2,500), your balance will be automatically swept into your designated Fidelity account. With manual redemption, you must call Cardmember Services at 888-551-5144 after you reach the same 5,000 point minimum balance.
Already have the previous FIA Cardservices-issued card? For now, just use your card as usual. US Bank/Elan did agree to acquire the existing credit card business, which means sooner or later everyone will be forced to move over to this new card. You will not have to re-apply, your points will move over, and the card will be transitioned automatically. You will be notified around mid-2016 with further details. This is all from Fidelity's existing cardmember FAQ.
If you have a Fidelity Rewards Credit Card, you can continue to enjoy the features and benefits associated with that card. If you would like information about rates, fees, other costs and benefits, please call an FIA Card Services® representative at 877-811-7088. Information will be sent to you in mid-2016 regarding your new Fidelity® Visa Signature® card.
I am curious how this would affect credit history, as this card is one of my older credit lines (10+ years). I am guessing the old line will be closed. Update: Good news! I just received a note directly from Fidelity that for current credit cardholders that when we are eventually converted to a new Visa card number, our credit reports will still reflect the original opening dates of our current credit cards.
Commentary. This move makes complete business sense. First, now they can offer a Visa card with 2% cash back without any tiers. Second, Fidelity uses this card to encourage customers to keep all their assets within Fidelity-branded accounts. You could theoretically now have your checking account, credit card, brokerage account, IRA, 401(k), all with Fidelity.
Their previous issuer, FIA Cardservices was owned by Bank of America, which is essentially a direct competitor. You could also have a Bank of America checking account, BofA credit card, Merrill Edge brokerage account, and Merrill Lynch wealth management account under their umbrella. In fact, I recently opened up a Merrill Edge account and moved over $100,000 of assets and received (1) 100 free stock trades a month and (2) a 75% bonus on my credit card rewards with the Bank of America Travel Rewards card (my review).
Elan Financial Services is a subsidiary of US Bank, but they are less of a direct competitor. You won't see "US Bank" mentioned anywhere on this card. Elan quietly co-brands with many other financial institutions (over 1,400) who want a credit card but don't want to handle the back-end details.
My personal choices. As a self-directed investor, I like to keep my options open. This new card remains a solid cash back card for existing Fidelity customers (or those willing to open a Fidelity account). I have the Bank of America card mentioned above, excellent rewards for those with over $100k in assets and it has no annual fee. I also have the Citi Double Cash card (my review) because it is a similarly solid card with no annual fee (and doesn't require any companion account).
Why do I have all three? My experience is that good credit cards may stop taking new applicants with no prior notice, but as an existing customer you can often continue to receive grandfathered benefits for a long time.