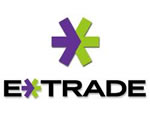 E-Trade has decided to join in on the commission-free ETF party, announcing a limited set of ETFs that you can trade with no commission fees effective 12/16/2011. However, to "discourage short-term trading, E*TRADE will charge a short-term trading fee on sales of participating ETFs held less than 30 days." I tried but couldn't find how much that fee was on the fees page. Thanks to reader Shraz for the tip.
The fund companies represented include WisdomTree, Global X, and db-X (Deutsche Bank). Many of the ETFs are definitely niche products, like a New Zealand Dollar ETF or a Aluminum ETF… meh. There are a few ETFs that may be somewhat interesting, if you like the idea of a dividend-weighted strategy:
WisdomTree Total Dividend ETF (DTD)
WisdomTree LargeCap Dividend ETF (DLN)
WisdomTree SmallCap Dividend ETF (DES)
WisdomTree Emerging Mkts SmallCap Dividend ETF (DGS)
WisdomTree International SmallCap Dividend ETF (DLS)
For context, here's more information on other brokerage companies with their own specific ETF lists:
If you are the type of investor that wants to buy low-cost, index/passive ETFs with no commmission fees, I would say that Vanguard and TD Ameritrade are the best bets. You could build a low-cost and simple ETF portfolio from Total US (VTI), Total International (VEU), Total Bond (BND), and Inflation-Protected Bonds (TIP) for free at TD Ameritrade. You'd have to either go with a mutual fund version for TIPS or pay a commission for TIP from Vanguard.