My friends and I were talking about CyberMonday and we started trying to come up with some gift ideas that might pay for themselves, beyond the usual rechargeable batteries or fluorescent light bulbs. Things we'd actually want to receive as gifts, or may end up buying ourselves with the inevitable gift cards. Here's a few of them: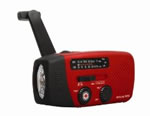 Emergency Hand-Crank Flashlight and Cell Phone Recharger – Keep one of these in the car, and your cell phone will never die. Just crank and recharge! This one is even solar-powered. Add in the fact that many old cellphones with no monthly plan still have 911 service, and you have another nice emergency back-up. I actually bought one of these – one tip is to make sure you have the right power adapter tips for your phone and keep it handy.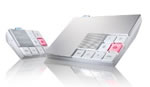 Ooma VoIP Phone System – This VoIP phone system that costs $210 upfront, but you don't have any ongoing monthly fees for unlimited local and long distance calling in the US. I still haven't seen one in action, but I keep hearing good reviews though this blog.
Wii Game Console – We were divided on this one (mainly between those who have one and those who don't…). It can certainly produce less going-out and save money on movies/food/drinks that way, but all the little accessories really add up. Controllers, $50-$80 a pop since they have two parts. Guitar Hero will make you want two guitars. And now comes the Wii Fit! Still, I must admit I love those Raving Rabbids…

Crock Pot / Slow Cooker – Cold weather + recession = Increased slow cooker sales. At least that's my theory. I saw this at Costco and they were selling fast. The actual crock pot is removable for serving and easy clean-up.
Some previous mentions:
Chest Freezers – Not really much of a gift idea, but still something to consider as food prices are still going up.
Kill-a-Watt Energy Meter – For some reason I bought one of these a year ago, took a bunch of data, and then promptly lost it when we moved. Arrgh. Need to dig this up again.
The Simple Dollar also has some other items in his list of gadgets that actually save money.
Any other ideas?