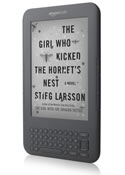 This is the story of how I ended up buying an Amazon Kindle with Special Offers (WiFi) today for $114. I am one of those guys that loves the feel of traditional books and really didn't know much about eReaders. I figured the Kindle with Special Offers basically meant it came with ads. How annoying! But it turns out the ads never show up when you're actually reading an book, and the "Special Offers" include some pretty good deals (mostly coupons good at Amazon). Past offers include a $20 Amazon gift certificate for $10, or any mp3 album for $1.
Right now, if you have a Kindle with Special Offers and "claim" it by 11:59pm Pacific August 8th, you can get 20% off select laptops at Amazon. The list actually includes laptops from Apple, Dell, and HP. Thus, if you were going to buy any laptop $570 or higher, this Kindle would essentially be free (plus more deals in the future). Apple laptops rarely go on sale, and you could be getting a $1000 Macbook Air for $800. The highly-motivated could probably buy/resell a higher-end Apple laptop on eBay and make some decent profit. (This is how I paid down a lot of student loan debt during the dot-com boom.) Some folks have been buying just the unique coupon code itself from owners for up to $50.
Of course, today is already August 8th, so to participate you'd have to buy a Kindle today from a retail outlet like Best Buy or Target. Some Apple laptops on Amazon have been going in and out of stock, but you have until September 8th to redeem your coupon.
(Update 8/9: The 20% off laptops is now over. The current offer I see is $15 of $30 in School Supplies at Amazon and $5 off Kindle lights.)
In any case, with some discipline hopefully this Kindle thing will continue pay for itself and my travel bag will be lighter. eBooks are only slightly cheaper than paper ones, especially if you consider resale value, but I do buy around a book a month. I've also thought about writing some cheap 99 cent eBooks for the Kindle bookstore. I haven't even started reading about ways to hack this thing…
Here's a question I couldn't get a clear answer to… If you have a US Kindle with 3G, can you use their included web browser internationally? It seems to promise that you can buy and download eBooks over 3G abroad in 100 countries, but I've read conflicting reports about web browsing. If I can, I would be very tempted to upgrade to the WiFi+3G version with Special Offers. I know that with 3G coverage across the US you can do simple tasks like check your email on the road, which can be useful for the non-smartphone-with-data-plan crowd.