My first statement for my Citi Professional Card closed recently, and I just checked my rewards balance for the promised free $100 gift card. To my delight, my 10,000 free ThankYou Points have already been deposited! I swiftly went to the ThankYou Rewards site and traded them in for two $50 Target Gift Cards. I shop regularly at Target, so it's basically the same as cash for me.
It seems that once you get to the $50 range, 1 point = 1 cent in gift cards. It was hard to find the Target reward option, but the search function saved me. Other good rewards options I found were Shell and Exxon/Mobil Gas Cards or Gap/Banana Republic/Old Navy Gift Cards. For those with student loans, you can even get a $100 loan payment for the 10,000 points. Here's a screenshot of my points: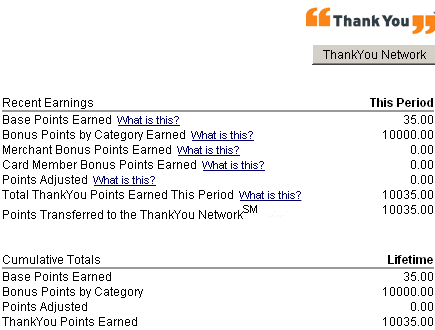 Click on the 'ThankYou Network' button to easily register your card. If you already have this card, you can check your rewards balance online under View My Account > Rewards > Current Activity:

Time/Value Summary
Total time spent: ~5 minutes
Total money 'earned': $100 in Target Gift Cards
This was so easy, I convinced my wife to apply for one too. She usually stays away from the bonus-seeking, but apparently $100 in free clothes is worth it.