I decided to open a brokerage account with Zecco.com. This is not going to be my main brokerage account just yet, but I do plan on using it. (I'm going to revive my Play Money account, for those that have been reading for a while. More on this later.) For now, since I think a lot of people are curious about this account, here are my experiences with the account itself.
Introduction: Why open a Zecco account?
Two words: Free Trades. As of 10/1, they offer 10 free market/limit trades per month, if you have $2,500 in total account equity (stocks + cash). There is no minimum balance to open, but if you have under $2,500 trades will cost $4.50. Finally, with no inactivity fees it seems like a great account even for someone who doesn't trade frequently. Some other brokers offer free trades, but none with such a low balance requirement. There is a $30 annual fee for IRAs.
Why wouldn't you open a Zecco account?
This is also simple – free trades aren't everything. Zecco has been around almost a year now, and I don't see Chuck Schwab declaring bankruptcy. Trust and customer service are big. Can Zecco execute the trades in a timely manner, and can the online interface and customer support match the other brokerages? (Or at least come close enough.) Hopefully, this review will help answer some of these questions.
Also, can they make enough money off of ads and margin interest to stay in business? If not, you'll be faced with a $50 transfer-out fee and possible commissions elsewhere if you need to sell.
Opening Process Overview
1. Sign up for your MyZecco account. It is important to note that there are two parts to the Zecco website. First is the myZecco layer, which a more informal area that allows you to post on blogs and forums without an actual trading account. They will actually e-mail you this username and password, which I think is fine because no financial information is included in this layer. You don't even need to enter your name or address.
2. Apply for a trading account. This seemed like a pretty standard brokerage application. One thing to note is that you may want to apply for a margin account, even if you don't plan on trading on margin (borrowed money). Here's why:
In a cash account the proceeds of a sell order will not affect your buying power until settlement, which is T+3 (trade date plus three business days). To avoid this situation you may want to consider establishing margin on your account. With a margin account the proceeds of a sell order will update your buying power immediately. To establish a margin account you can request it at the time you open your account or if your account is already established you can complete the Combined Customer Agreement Form…
3. Wait for application approval. You'll get an e-mail saying that your application is approved, mine arrived the next morning. You will get information on how to set your Trading Key. This separate password gives you access to the second part of the Zecco website, the Trading area. This layer is a secure encrypted area and does contain sensitive information. I wouldn't make your Trading Key the same as your myZecco password!
4. Send in your new account paperwork and copy of government ID. You should mail this in as soon as possible, as without it they will assume that you are subject to backup withholding. (Update: Now, it appears they have implemented system that allows most people to get their paperwork processed electronically.)
Still, you need to make sure it is processed before you can start trading. To check, log into your trading account at myInfo tab > Customer Info > Outstanding Paperwork. You want it to say "No" as shown below: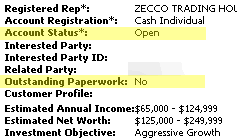 5. Fund your account. If you want to fund online (which is what I did), you need to first link up your bank account first if that's how you will be making your deposit. The popular 2-small-deposit verification system is used, and takes a couple of days to show up. Other ways to fund include via check or bank wire.
6. Request money market sweep. By default, free cash in your account only earns 1% APR. But you have the option of setting up a money market sweep account by sending in this form. There are three options by Scudder Investments, and I think the symbol for the taxable money market is CSAXX, currently with a 4.38% yield. Why they don't make this higher yield the default in the first place is beyond me. 😕 The Treasury Money Market option might be a good bet for those with state income tax rates.
7. Next Steps. After you fund and your paperwork is processed, you should be ready to trade. I'm currently waiting on my opening deposit to arrive, and will report back once I've done more with the website and maybe made a few trades. Here are some things I've noticed so far:
– The administrative back end of Zecco is clearly provided by Penson Financial Services, as it looks identical to the back end of MB Trading, another broker that I have used which is popular amongst active traders. This actually provides me with some familiarity, although the contrast between the "Web 2.0-style" Zecco website and the bare-bones Penson interface is very stark and makes the site overall feel a bit unpolished.
– Zecco does not receive payment for order flow. All orders are routed and executed by Penson Financial Services. Hopefully this will lead to good fills.
– Zecco is insured by the SIPC, like most other brokers.
– You can set up dividend reinvestment if you wish, although you can't buy partial shares:
Dividend reinvestment is a feature that is available to our clients and can be setup during the account opening process. If you would like to add this feature after the account opening process is complete, you must submit the request in writing to our customer service department.
For the rest of my experiences, see the second part of my Zecco Review.
Navigation
Zecco Review, Part 1
Zecco Review, Part 2