(The promo below was discontinued after 3 days. Sorry, I warned you guys!)

The online division of Wilmington Trust Bank, WT Direct, is running another promotion for new customers. You can get up to a $500 cash bonus on top of the standard interest rate (currently 1.16% APY) if you open a new account and maintain a certain balance for 3 months. Here is the offer text:
Join WTDirect now and for every $10,000 that you deposit, we'll give you a $100 cash bonus, up to $500!* Just open and fund your account by June 15th, maintain your initial deposit for three months, and you'll receive a cash bonus.
The Numbers: Like a 3-month CD paying over 5% APY
This offer is basically a 1% flat bonus on your deposit after only 3 months if you deposit a multiple of $10,000. How does this work out when converted to an interest rate? To start, you are already getting 1.16% APY. On $10,000 for 3 months, you'll get $28.40 interest and $100 bonus. That's roughly 5.15% APY during that time.
Therefore, you can treat this bonus as a 3-month CD paying over 5% APY, more than 3% higher than any other available 3-month CD out there, and works for deposits up to $50,000: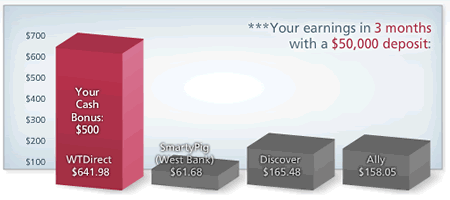 Application Process and Setup

I've already opened a WTDirect account for a previous bonus, so here a quick summary of what to expect when applying. First, they gather the personal info. Second, they use the now-popular Equifax ID check questions to verify your identity. Third, you can fund electronically with account and routing numbers, although you must come back and verify trial deposits later. Finally, you can electronically sign the application and disclosures. There were no physical forms to send in, although a welcome packet does arrive by mail. They state explicitly that there is no credit check.
As for practical matters, WT Direct's online transfer system allows unlimited linked banks, and transfers to external accounts are free both in and out with a 2-3 day transfer time.
Final Details
You must click through the promotional page and not the regular front page, so that the promotion code of dxxxc01 should already be filled in for you. WT Direct offers can be pulled early (and have been in the past), so don't dawdle too long if you're interested…
The fine print:
This offer is available to new WTDirect clients only. Primary account holder must NOT have held a WTDirect account in the past 12 months. WTDirect account must be opened and funded via electronic (ACH) transfer received by 6/15/10. Bonus is based upon the lowest daily balance during the promotional period of 6/15/10 – 9/15/10. Bonuses will be paid approximately 2 weeks after the end of the promotional period to clients whose accounts are open and in good standing. Wilmington Trust employees and their family members are not eligible. WTDirect reserves the right to cancel or modify this promotion at any time without notice.