Conventional advice has been that we should invest in some mix of stocks and bonds to reach our retirement goals. But as we've seen, rolling the dice on a varying return distribution every year can be quite stressful. What if we start our retirement planning based on buying a safe investment that guarantees a steady after-inflation return instead? This question is posed in the book Worry-Free Investing by Bodie and Clowes.
Treasury Inflation-Protected Securities (TIPS) are bonds that promise you a total return that adjusts with the CPI index for inflation. Very generally, it works like this: if the stated real yield is 2% and inflation ends up at 4%, your return would be 6%. TIPS are issued and backed by full faith of the U.S. government, so they are as safe as they get. As your investment the automatically adjust with inflation, you will never have to deal with the stomach-churning swings of stocks, and also you avoid the risk of underperforming inflation that traditional (nominal) bonds have.
How much would you have to save if you decided to take zero market risk and invest solely in TIPS? The book outlines the mathematical formulas to use, but also provides a free spreadsheet calculator to do the heavy lifting for us. I uploaded it to ZohoSheets:
I would recommend playing with the numbers a bit. To start, the book was written in 2003 when the real rates were relatively high at around 3%. Given the recent history of the 20-year TIPS yield (shown below), I would assume a maximum of a 2.5% real interest rate.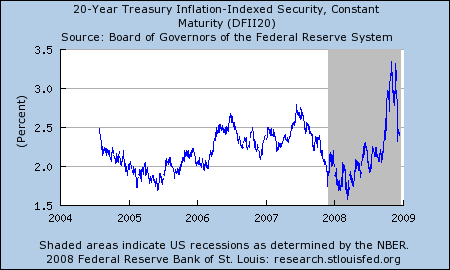 I would also change the replacement rate to something that more closely tracks your specific expected expenses. The book recommends the income required to maintain your "minimum acceptable living standard". For the skeptical and/or early retirees, don't put in anything for Social Security. Finally, don't forget to input your current savings.
You now have your personal risk-free savings rate to reach your goals. (Warning: It might be really high! If so, try retiring at 65 and input something for Social Security.) But let's say you need to save 10%, but you are able to save 15%. You could put the 10% in the ultra-safe TIPS, and put the other 5% in something riskier to boost your returns while still guaranteeing a minimum future income. I'll share a possible solution from the book once I get access to a flatbed scanner.
Now, there are lots of potential glitches with this simulation. For one, there is reinvestment risk because the TIPS real interest rate will continue to vary, and could drop to much lower levels. The government could even conceivably stop selling new TIPS at any time. Some people are skeptical that the CPI properly tracks inflation. Finally, TIPS are taxed at ordinary income levels, so one should keep them in tax-advantaged accounts. However, most people's 401ks don't include TIPS as an option! Otherwise, taxes are going to hurt returns.
In the end, I think a portfolio of 100% TIPS is impractical for most people. However, I definitely like TIPS as a component, and see this thought process as a way to estimate a "target" savings rate that can let those so-inclined to take less risk and sleep better at night.