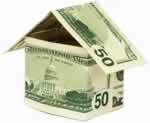 With the rate drop yesterday, mortgage rates are at amazing lows. People in the office are bragging about locking in 4.50% mortgage rates with no points, or 4.25% with 1 point. While I haven't done a lot of in-depth research on this topic, I would agree that right now is a good time to explore your options. (Especially if you have a good credit score and a loan-to-value ratio below 90%.) My favorite source for helpful mortgage info remains the Mortgage Professor.
Breakeven Calculators
The main cost of a mortgage refinance are the points and settlement costs (appraisal, etc.). The primary benefit (when you aren't trying to pull cash out) is a lower monthly payment. This way, you can find a break-even point after which you save money with the refinance, say 20 months. Obviously, you'll want to be confident that you'll be holding the loan longer than that. Here are two breakeven calculators: one and two.
If you want instant savings or are just short on cash, you can attempt to find a "no cost" refinance, where you get a rate with negative points that actually cover your upfront costs. Even better, to avoid funny business later, find a lender that actually guarantees that they will cover all settlement costs. However, your rate might not be the best.
After reading up on some articles on the Professor's website, here seems to be a possible action plan:
Check with competitors first to get an idea of what combination of rates and closing costs you can get. Try an Upfront mortgage broker or lender.
Armed with this information, call your loan servicing company and ask about your remaining loan balance. Casually ask what could be done with the current low rates. If needed, use your rates collected previously to let them know you're shopping around and make them go one better. Your existing lender may have more flexibility in waiving and/or reducing fees.
Ask for a loan modification if your lender has not sold the loan, and are servicing it themselves (see below).
My Refinance Attempt
I am in the least common situation, where I got my loan through a community bank who did not sell the loan. They are both the lender and servicing agent. Thus, they are very interested in keeping my loan and not losing it to a refinance. After talking to them, the refinance route was not looking too good, and so they offered me a rate reduction instead. I got to keep my same loan with the same remaining term length, but the rate would be reduced from 5.625% down to 5.125% for a $500 fee. Neither of us has to pay for an appraisal, title insurance, document fees, recording fees, or another mortgage broker commission.
After running the numbers, I would be saving $150 per month, which would give me a break-even period of only 4 months! The catch: I had to lock today to get it guaranteed, and I could not lock again for 30 days. I decided to not to be greedy and locked it in (at no cost). I should get the paperwork tomorrow. If I have a $150 lower monthly payment for the next 29 years, that's a potential savings of $50,000! ($150 x 12 x 29, but less if you calculate back to present value…)
It's almost too good to be true, considering I don't have to try and go through the hassle of a refi. In fact, since I paid points to lower my mortgage rate initially, I thought my chances for a profitable refinance were slim to none. Now, I still have to look at the fine print, so this is not a done deal.
Again, I am not an expert on this stuff. But given the weird situation we have right now, if you have a mortgage professional that you trust, you might want to give them a call. This one phone call today saved me tens of thousands of dollars. I just read a newspaper article that they have gotten more loan requests in the last two weeks than they have had in the last 11 months! So while they are busy again, they are less likely to take your business for granted.
Good luck, and share your success stories below! Oh, and if you missed it before, you can read about our (long) first-time home-buying experience here.