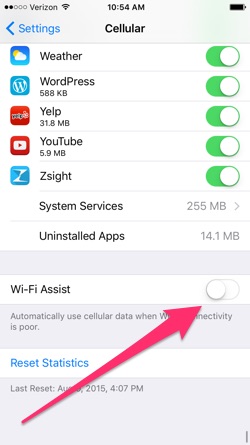 I usually don't upgrade my iPhone to the latest OS right away, as you know there is going to be 9.0.1 and 9.0.2 and so on in the upcoming weeks. But since the Discover Apple Pay promo required it, I upgraded immediately this time.
One of the new features of iOS 9 is something called WiFi Assist. Previously, your iPhone would try to cling onto that WiFi signal as long as it could before finally giving up and switching to cellular data. Sometimes it would interrupt your Netflix or Spotify streaming. If you found that annoying, the good news is that WiFi Assist will now seamlessly transfer you earlier onto cellular 3G or 4G data.
However, I liked the old way. If I have weak WiFi and my ESPN3 video won't stream, I don't want it to seamlessly switch to my cell data. I want it to cut off and let me know. Video streaming at high-definition can use up 1-2 gigabytes per hour. That's $15 to $30 an hour at my overage rates. Some folks argue an early handoff won't cause a "massive" overage, but I want the choice of either moving to improve the WiFi signal or turning it off. (With WiFi Assist on, your only indicator will be a greyed-out WiFi icon, if it is even visible)
WiFi Assist is turned on by default in iOS 9. You might like this feature, or you might not. If you also manage your cell data somewhat carefully, you may decide to turn off this feature off. Here's how:
Open Settings.
Tap on Cellular.
Scroll down to the bottom.
Turn Wi-Fi Assist off.
More: Ting Blog, Houston Chronicle