The strategy of Buy & Hold Investing has a lot of followers (including me), and one of it's touted benefits is that it is a simple way to invest. In the case of passive investors, it primarily involves picking and maintaining an asset allocation plan for the next 10-50 years of your life. No need to monitor stock prices or decipher financial statements. However, "simple" and "easy to execute" aren't the same thing. For example, "spend less than you earn" is simple. "Always save for a rainy day" is simple. But how many people actually do this?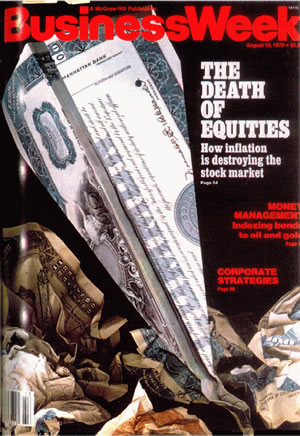 So why don't I think it will be easy?
The picture above is the cover of the August 1979 issue of BusinessWeek magazine. In case you can't make it out, the picture is of a stock certificate folded into a paper airplane that has crashed, surrounded by many other crumpled airplanes. (No Photoshop back then…)
The title of the cover story is "The death of equities: How inflation is destroying the stock market." I haven't been able to find the full text of the article noted, but I did find some snippets at TheFiendBear. He notes that the article "was published at a time when the Dow was languishing at 875 and had been trading in a see-saw fashion ever since topping out 6 1/2 years earlier in January of 1973. Inflation was a persistent nag on the economy and the Federal Reserve and US fiscal policies were held in low regard."
Sound familiar? Now here are excerpts from the actual 1979 BusinessWeek article. Here is the summary:
The masses long ago switched from stocks to investments having higher yields and more protection from inflation. Now the pension funds–the market's last hope–have won permission to quit stocks and bonds for real estate, futures, gold, and even diamonds. The death of equities looks like an almost permanent condition–reversable someday, but not soon.
Pension funds invested in diamonds? Wow. But stocks always beat bonds over long periods, right?
Until now, the flight of institutional money from the financial markets has been merely a trickle. But it could turn into a torrent if this year's 60% increase in oil prices touches off a deep recession while pushing inflation sky-high. As it is, the nation's financial markets and its capital flows have been grossly distorted by 13 years of inflation. Before inflation took hold in the late 1960s, the total return on stocks had averaged 9% a year for more than 40 years, while AAA bonds–infinitely safer–rarely paid more than 4%. Today the situation has reversed, with bonds yielding up to 11% and stocks averaging a return of less than 3% throughout the decade.
Still, I thought stocks were a great inflation hedge?
The one rule whose demise did the stock market in could be summed up thus: By buying stocks, investors could beat inflation. Stocks were a reasonable hedge when inflation was low. But they proved helpless against this awesome inflation of the past decade. "People no longer think of stocks as an inflation hedge, and based on experience, that's a reasonable conclusion for them to have reached," says Richard Cohn,an associate professor of finance at the University of Illinois. Indeed, since 1968, according to a study by Salomon of Salomon Bros., stocks have appreciated by a disappointing compound annual rate of 3.1%, while the consumer price index has surged by 6.5%. By contrast, gold grew by an incredible 19.4%, diamonds by 11.8%, and single-family housing by 9.6%.
This isn't to bash BusinessWeek, they were certainly not alone. Of course, since 1979 the U.S. stock market has had an awesome run, and now we are back to many people putting 100% of their portfolios into equities. But I am pretty sure that some time within the next 20-40 years there will be a similar fearful atmosphere. Imagine bonds outperforming stocks by 8% per year, for 10 years. Imagine very smart people, pension funds, moving their money as well.
Imagine this article being written 40 years later (replace 1979 with 2019, late 1960s with late 2000s), after all these crazy Fed cuts, money injections, and high oil prices spike inflation. Just something to consider. Will you still be able to buy and hold? I'd like to envision myself being a pillar of steadiness in that storm. 😀