All this talk about converting free Membership Rewards points into cold hard cash got me to thinking – how much do you net after fees, and which stores have the gift cards or certificates with the highest resale value? My initial guess was that stores that everyone shops at (Wal-mart, Home Depot, etc.) would be the easiest to resell, while the higher-end boutique shops might be tougher due to a smaller customer base and less bidding frenzies.
I decided to test this hypothesis by looking at eBay's archives. Here was my not-statistically-sound-but-let's-just-try-it methodology – I took 10 recently completed auctions for each store's gift cards, taking a variety of gift card values and different sellers. I would then take 5% off the average ending bid to estimate eBay auction fees and then calculate the net resale percentage (ignoring shipping since at most it would be a stamp):
(Ending Bid x 95%) / Face Value = Estimated Resale %
Results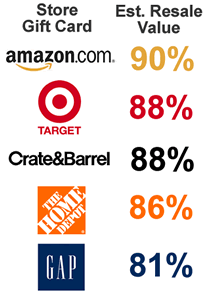 Instead of doing every store under the sun, I tried to take a small sample of different types of stores. Even with only 10 data points per store, the cards often sold in a tight price range, with the relative standard deviation of this small sample size being about 2%. The results are on the right.
As one might have guessed, Amazon.com has the highest resale value, as you can easily spend it online, and they sell everything from groceries to bedding to electronics. Big Box stores Target and Home Depot followed closely behind. Surprisingly, even with a limited presence and fancier products Crate and Barrel also did quite well. My theory behind this is that people tend to spend a lot of money there, so people can buy a bunch of gift cards online, combine them, and still save a large amount – 12% off of $1,000 is $120 saved.
The worst performing out of this limited sampling was Gap. Pottery Barn, Banana Republic, and Old Navy also hovered about the 80% range. Some specialty stores had very few completed auctions, so I skipped them.
Which are good bets for each Rewards program?
Not every points systems offers gift cards to the same stores. Here are my favorite conversions (all 10,000 points = $100 Gift Card):
Starwood Starpoints » Amazon.com Gift Cert.
Citibank ThankYou Points » Target Gift Cards
AmEx Membership Rewards » Crate and Barrel/Home Depot Gift Cards
You can find $100 bonus offers all three of these points programs here.
Keep in mind though, that this is assuming that you aren't going to convert to other things like hotel or airline rewards. Free flights can also be sold for cash, especially if you have enough to redeem for a business or first class ticket. This can be worth 3-7 cents per mile depending on the route and if you sell directly or through a broker. More on this somewhat tricky practice next.