With all this talk about the Fed Funds rate drop, a lot of people are wondering what it means for consumer rates like savings accounts, credit card APRs, and mortgage rates. Here, I wanted to explore the savings account relationship. First, some quick definitions:
What is the Fed Funds Rate?
With our current system of fractional-reserve banking, US banks only have to keep a certain amount of money reserved at all times – Currently, it's only 10% of checking account deposits and nothing (!) on time deposits like savings accounts. Banks usually try to keep as close to this minimum as possible, so that they can lend out the rest at higher interest rates and make that juicy profit.
In order to stay as close as possible, banks often lend money to each other overnight as needed. One bank may have extra in reserves, while another may temporarily not have enough, and this way it's win-win. The target interest rate for this is the Fed Funds Rate (FFR).
What is the Fed Discount Rate?
This is the exact interest rate at which banks can directly borrow from the Federal Reserve. This is usually a last resort, as such loans are an indication of financial weakness and subject to audit.
What is the relationship between the Fed Funds Rate and interest rates on high-yield savings accounts?
This is just my own speculation, but I would imagine that banks would not want to offer significantly more than the Fed Funds rate. Why would you pay 6% interest out to individuals when you could just pay 5% to another bank? Still, I doubt that banks can borrow an unlimited amount of money via other other banks, so they may be willing to pay a bit more than the FFR if they have the ability to make a profit. Finally, they may just be operating at a temporary loss in order to grab some deposits that hopefully will stay later from branding or just convenience (*cough* FNBO Direct *cough*).
Here is a historical chart of the Fed Funds Rate versus the APY paid by online banks Capital One 360 and Emigrant Direct. I chose these two because they have (1) been around longer than others, and (2) are online and as such should be operating with the thinnest margins. The data points for ING should be close, but not perfectly accurate, as I used Archive.org at 2-month intervals for rate info not available in my own archives.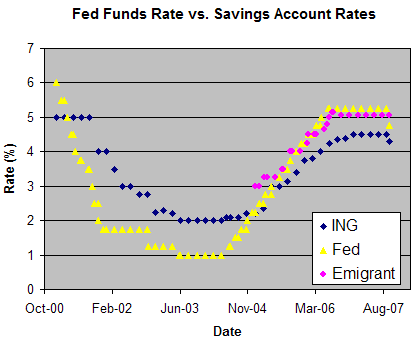 You can definitely see some correlation, but it's not perfect. It looks like ING was more aggressive in 2002-2004, and then gradually become satisfied with fatter margins. Emigrant seems to be following the curve closely, which would indicate an interest rate drop soon. So if you want to predict the interest rate of your own bank, not only do you want to look at the FFR, but also the bank's historical margins and whether they are looking to gain (or simply defend) market-share.
A little birdie told me to expect an FNBO Direct rate definitely under 5% after 9/28. I'm just writing this here to see if it turns out to be correct.