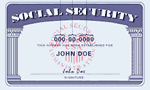 A lot of us younger folks are so disillusioned by our government that we don't expect Social Security to even be around when we turn 65 (or likely 75 by that time…). But the fact is that today millions of people rely on Social Security as their primary – if not sole – source of income. Taking into account that the average benefit is only $963 a month, that's not very much.
AARP asked retirees who rely primarily upon Social Security how the manage financially, and reprinted a selection of the responses. I enjoyed reading them, as they gave me a glimpse of what obstacles they face, and it showed many different ways they deal with them. Being on a fixed income and having a limited ability to make more money due to disability or illness would be very frustrating to me. Here are some excerpts, which I have organized by the major spending categories:
Housing
We built our own house on a lake stick by stick, or we wouldn?t have a house on a lake. It took us two years. Our son helped with the framing, and my son-in-law did the painting, but my husband did a fantastic job, only contracting out the roofing. [..] We planned ahead and paid off our house before retirement.
We put our home into a reverse mortgage several years ago, and I will realize very little if I sell. I have no children within 130 miles but can't afford to sell because of the dwindling equity.
[I] live in a Section 8 apartment. In this area, a one-bedroom apartment is $700 to $1,300 per month. I cannot afford this and was lucky to get on Section 8. I must share the apartment with two roommates.
The largest portion of your income will be taken up with rent, utilities, phone, and maybe an auto (I had to get rid of mine), so be certain to apply for government-subsidized housing as soon as possible, as there is likely to be a lengthy waiting list. I waited 3 years! Previously, my rent alone was higher than the current total expense for rent, utilities, and phone.
Healthcare
[…] Our biggest expenses are the cost of our HMO, our Medicare and our medications. My $511 monthly pension pays for that. Our medications, although prescribed by HMO doctors, weren?t on the HMO?s formulary, so the cost wasn?t covered. Since we don?t live too far from Canada, we used to buy our most expensive medications through a Canadian clinic. However, now they will no longer serve Americans, so we did what others do on limited incomes?we just quit taking our two most expensive medications.
[I] go to hospital clinics for treatment. There is often a two- or three-hour wait at the clinics to see a doctor, or more typically a student intern. But, private physicians do not take my Medicaid insurance. Some take Medicare and then bill you for the copay.
If you are a veteran, be sure to contact the VA for any medical or prescription help you may need. I definitely cannot afford civilian medical insurance!
Food and Nutrition
We know what is healthy to eat, and we can eat on $2 a day. A typical day?s menu would be:

Breakfast: Orange juice (frozen), oatmeal w/brown sugar, half a banana, coffee

Lunch: Tuna fish sandwich (on whole wheat bread from a wholesale bread outlet), carrot sticks, second half of banana, tea (made from tea purchased for 1 cent a bag from Wal-Mart)

Dinner: Baked potato w/chili topping, coleslaw, half-cup ice cream, tea (made with the same tea bag as used for lunch).
I can some items at home to supplement my food supply. I raise my own apples and have enough ground to plant a garden, but my age makes a garden difficult.
[I] spend no more than 30 dollars a week for food. I have just eliminated meat from my diet and gone vegetarian because I cannot afford meat or fish. In addition, I belong to a clubhouse that has a food co-op and provides meals for a dollar. I can get 30 dollars worth of groceries from the co-op for two dollars. Most of the food comes from a local food bank, and the food is expired. I have gotten spoiled food from the co-op, and also infested food, but must take the risk because I cannot do without it.
General tips
We put our home into a reverse mortgage several years ago, and I will realize very little if I sell. I have no children within 130 miles but can't afford to sell because of the dwindling equity.
0
Of course, another one of my responses to reading these stories was a strengthened resolve to have the financial means to avoid dealing with some of these issues. Some of the respondents seem to be content, but definitely not everyone. Also, I should really explore getting better disability insurance!