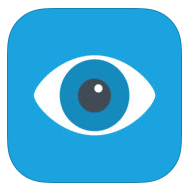 Warby Parker sells prescription eyeglasses and sunglasses, primarily online at prices lower than traditional retail optical stores (starts at $95). They can send you frames to try on at home, or you can upload a picture of yourself and "try on" frames virtually.
The next step is to remove the optometrist visit whenever possible. Per this Quartz article, Warby Parker has rolled out a new Prescription Check app that will write you a new prescription (with a new expiration date) if their eye exam shows that your prescription hasn't changed.
You basically do the "Big E" exam while standing the proper distance away and looking at your desktop computer screen, using the smartphone app for interaction. The updated prescription is written by a licensed eye doctor and is valid at any optical center (not just Warby Parker). The app is registered with the FDA. For now, the service is at the convenient price of free.
The catch? For now, eligibility is limited to the following:
Must be a resident of California, Florida, New York, or Virginia.
Between ages 18 and 40.
Must already own Warby Parker prescription eyeglasses.
Warby Parker says they will increase eligibility over time (and eventually start charging a fee). I went ahead and signed up for e-mail alerts.
I've worn glasses for decades and would agree that there are times that I just want another pair of glasses but my eye prescription expired after 12 months. On the other hand, I do feel reassured when I visit the optometrist that everything is alright. Maybe they should extend prescriptions to 2 years if your vision has been stable for a while.
(Added: A reader tweeted that in some states like California, eyeglass prescriptions last for 2 years while contact lenses are for 1 year. Another site that does online eye exams is Opternative.com.)