Direct Link: http://www.virtualbank.com/bc_esav_virtual.asp
Current APR: 4.60% APY
Interest Compounding: Compounded daily and credited monthly.
Minimum to open: $100
Minimum to avoid monthly service charge: None.
Other fees of note: Close-out in first 90 days fee of $50.00 (No min, so just leave open for 90 days)
Download formats available: .ofx/.qif/.csv files2
Number of external bank account links allowed: 4
Routing Number: 067092200
Opening Bonuses: $20 referral bonus

Deposit Hold Times: (from the VB site) A 10 business day hold is placed on funds deposited into your account during the first 30 days. Every day is a business day, except Saturdays, Sundays and Federal Holidays. After 30 days, a 3 business day hold will apply to deposits.
Safety of Deposits: VirtualBank is a division of Lydian Private Bank, which is FDIC insured (certificate) up to $100,000. Still, this does not mean all banks are the same. BankRate.com's Safe & Sound Rating assesses banks' relative financial conditions. Lydian Private Bank has a rating of 4 out of 5 stars ("Sound" condition).
How to add or remove an external link:
– To add, send them a voided personal check with your name and address on it, and drawn against the account you want linked.
– To add or remove, also fill out this official form (pdf) and send to the address on the bottom.
Contact Information:
Email: info@virtualbank.com
Mail:
VirtualBank
PO Box 109638
Palm Beach Gardens, FL 33410
Phone:
To send account related or confidential information, log in to your account, select 'message center'. Each person is assigned their own 'Personal Banker', and their specific number is shown.
Customer Service Opinion: Good. I have called Virtualbank before, to inquire about their interest rate tiers when they rolled them out. They answered the phone quickly and were pretty knowledgable. I also get online messages from them confirming after I've requested to link a new account that it has been done.
User interface Opinion: Again, it works. It took me forever to find the 'Download Transactions' link, but you can see it on the screenshot clearly on the right. It just looked like a title to me for some reason (I'm going blind, I know).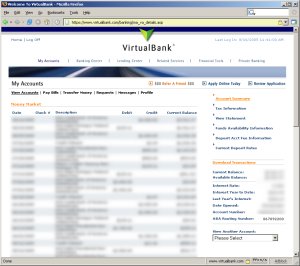 Other things to note: VirtualBank's combination of 4 allowed external bank links, and shorter 3 day hold time compared to other banks, makes this a very useful bank for me when I want to transfer money between various different accounts online. The interest rate is also consistently high enough to remain somewhat competitive.
2 .ofx is Microsoft Money's current format, .qfx is Quicken 2005+ format, .qif is Quicken 2004 and older and also older MS Money format, .csv is Comma Separated Values which is a more generic spreadsheet format.
(Post updated as of 2/18/06)