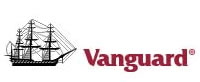 Vanguard made another announcement that effective today (10/6), the minimum amount required to qualify for Admiral Shares has been reduced to $10,000 for most of their index funds and $50,000 for actively-managed funds, significantly reduced from the previous $100,000 minimum.
Admirals shares are a separate share class of 52 mutual funds in addition to the standard Investor shares. While owning the same underlying investments, they also take advantage of the cost savings of big accounts and thus have lower annual expense ratios. According to their press release, the lowered requirements means that nearly half of all Vanguard clients can take advantage of at least one of these Admiral funds.
Here is a chart comparing Investor vs. Admiral shares costs for three major funds, along with the overall average across for all similar funds: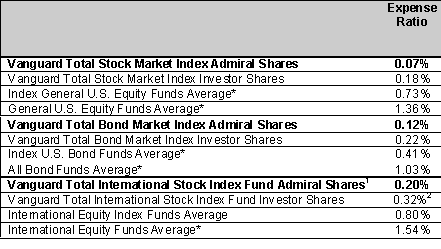 Here's another comparison chart of the same broad funds with similar competitors from Fidelity and Schwab. Note that there are some differences in actual fund holdings, especially in the international funds (click to enlarge with more details):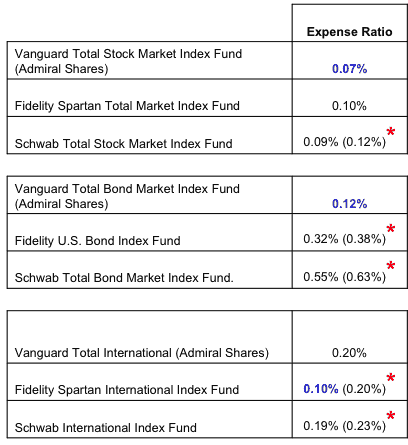 Here's a list of excluded index funds:
The minimum amount to qualify for Admiral Shares will remain at $100,000 for the following sector index funds: Consumer Discretionary Index Fund, Consumer Staples Index Fund, Energy Index Fund, Financials Index Fund, Health Care Index Fund, Industrials Index Fund, Information Technology Index Fund, Materials Index Fund, Telecommunication Services Index Fund, and Utilities Index Fund, and for the following tax-managed funds: Tax-Managed Capital Appreciation Fund, and Tax-Managed Growth and Income Fund.
I'm probably going to switch to the Admiral Shares of Vanguard Total International Stock (VGTSX, ER 0.20%) when it comes out, away from the Vanguard FTSE All-World ex-US ETF (VEU , ER 0.25%) which I just converted to. Their holdings are now pretty close. While I don't mind ETFs that much, they are a bit more work because I like to make a limit order during stock market hours in order to get a proper fill. (I don't like market orders in case there is another flash crash or similar.) If it's both cheaper and easier, I gotta go for it.
This will also keep me from converting some of my other mutual funds to ETFs, as the expense difference will either be gone or significantly minimized. They say that the newly qualified folks will have their funds transferred over – with no tax consequences – automatically over the next few weeks. If you're impatient like me, you can manually request it as well online. Just log into your account at Vanguard and look for the "Convert to Admiral Shares" link. It's always nice to save some money without doing anything at all.