A reader recently told me that he was no longer investing in the stock market after seeing the chart below from the Savings Bond Advisor. It shows the total portfolio value after investing equal monthly amounts in either the S&P 500 stock market index or Series I US Savings Bonds. The time period is from September 1998 (when "I Bonds" started being sold) through August 1, 2011. My comments follow.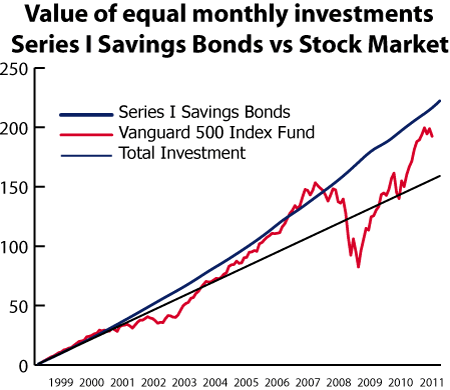 The past returns of savings bonds are indeed pretty good, but not likely to be repeated. Series I Savings Bonds (I Bonds) were the new thing in 1998, and the government offered some really enticing interest rates on them. I Bonds have a fixed component that lasts for the duration of that specific bond and an variable component that adjusts with inflation every 6 months. From 1998 to May 2001, the fixed component was always between 3% to 3.60% above inflation (source). However, since May 2008, the fixed rate has been between 0% and 0.7%. For the past year, the fixed rate has been a big fat zero. I would love to have a savings bond paying 3% plus inflation (currently 2.30%), as some current bondholders have, but I don't expect that to ever happen again.
Now, that doesn't mean that they aren't still a competitive investment, especially for the short term. Since interest rates are so low, I still buy savings bonds even at a 0% fixed rate as part of my emergency fund cash reserves.
Savings Bonds are being slowly killed by the government. Even though savings bonds have historically encouraged people of all income levels to save, it appears that the US Treasury is slowly killing the savings bond. As recently as 2008, you could buy $30,000 worth of each type of savings bonds a year, per person. For a while, we were able to even use credit cards to buy them without a fee. Today, you can only buy $5,000 of paper I-bonds and $5,000 of electronic I-bonds a year, and even paper savings bonds are being phased out in 2012. (You can still overpay your taxes and buy paper bonds with a tax refund in 2012.) There was even a NY Times article last week entitled Save the Savings Bond. Basically, even if you wanted to create your retirement portfolio with savings bonds, you can't.
Investing solely in inflation-linked bonds is actually recommended by some financial authors. The thing is, the government has so much debt that it greatly prefers US Treasury bonds which can be sold by the billions. Printing a $50 savings bonds is not even a drop in the bucket, it's closer to a H2O molecule in the bucket. What you can invest in is Treasury Inflation Protected Securities (TIPS), which like I Bonds are backed by the government and pay an interest rate linked to inflation. Economics professor Kolitkoff in the book Spend 'Til The End recommends your entire portfolio to be TIPS. The problem? You're gonna have to save a lot. TIPS yields are very low, currently offering yields of negative 0.7% above inflation (!) for a 5-year bond to a meager 1.1% above inflation for a 30-year bond. If you're okay with saving 50% of your income every year for 30 years, then this plan might work for you.
There is no easy answer as to the best place to invest right now. I am sticking with a diversified low-cost portfolio with both stocks and bonds (including a nice chunk of TIPS inside, which has done quite well recently), and you can see with this chart that it has also done pretty well the last decade.