The U.S. Census Bureau just released its 2012 annual report on Income, Poverty, and Health Insurance Coverage in the United States. A good recap of the data can be found via the charts in this slide presentation [pdf]. Below is my even-briefer summary.
The US median household income (inflation-adjusted) was roughly $51,000 in 2012. This number has decreased or remained stagnant each year since 2007, and is actually about the same as in 1989.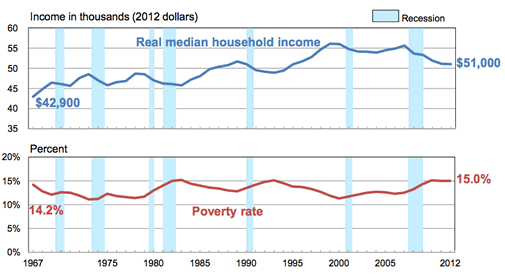 The 2012 official poverty rate was 15.0 percent, and roughly the same amount of the population was without health insurance coverage, 15.4%.

I think this report provides some perspective about the realities of many families today. As a household that earns more than average, this reminds us that it is quite possible to spend less, as many others already do out of necessity. I am not one of those money gurus that tells everyone that they can get rich and retire early; it will always be very difficult for most people. I want to take advantage of my current situation, save money and use it to create future income and financial freedom, and then hopefully that will enable me to help more people down the road.