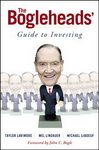 In geek speak, the term "noise" is any disturbance that interferes with or prevents reception of a signal, like the static on your cell phone. In the financial world, the intended signal is trying to tell us how to best accumulate wealth, and the interference is 95% of what you hear from the media. Forbes Magazine's Mutual Fund Honor Roll? Well-packaged noise. Jim Cramer of Mad Money? Annoying noise. This is according to Chapter 18 of The Bogleheads Guide to Investing.
I think that there is much truth to this assertion. In essence, anything that attempts to "beat the market" is saying this:

Tons of closely-scrutinized academic research of the past 80 years has shown that the vast majority of mutual fund managers and individual investors have underperformed index funds. Despite such overwhelming odds, here is something that we think might just do the trick…
Now, why would they do this?
One topic brought up is the motives of the source. Jim Cramer would not have a TV show if he didn't make 2-sentence summaries of every stock out there. Forbes magazine would never run an article showing that research had found if you actually bought all their Honor Roll funds from 1974 to 1990, you would have underperformed their corresponding markets and index funds. Not beat it, not matched it, but lagged it. They'd have to switch to only touting index funds. If they did that, what would happen to all those whole-page advertisements by brokerage firms, mutual fund companies, and stock-picking newsletters? Gasp!

Another consideration is you. Let's face it, sexy titles like "Buy this and double your money" sell books and magazines. In other words it's financial porn! And just like porn is scripted, these magazines articles are just like the Mad Libs we used to fill out in grade school, as shown in my post Anatomy of a Personal Finance Magazine Article.
Conclusion
Anyhow, I pretty much agree with this chapter and I think it lays it out reasonably well. I would add that another key to tuning out this noise is to do your investing homework in order to be confident in your beliefs.
I personally think that beating the market is possible, just unlikely, especially over the long run and taking into account commissions and taxes. Although I don't try at all right now, if I do try to actively invest later on, it will only be with a very small (less than 5%) portion of my overall portfolio. It will also be done with the full knowledge that I am trying to overcome very significant odds in doing so. The remaining 95-100% of my investment money will stay in low-cost index funds.
This chapter review is part of the Bogleheads October Project, which will include a review of every chapter in this book. I will also be posting my own review after this project is over, and giving away a free copy here.