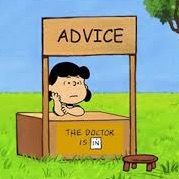 The best thing I read this week was a "Things I've Learned…" list called 68 Bits of Unsolicited Advice by Kevin Kelly – a very interesting fellow (see his bio, about me pages) who must have secretly figured out how to freeze time given all the things he does! I'm most familiar with him as the editor of Cool Tools.
Certain items on the list will sound familiar and only a few are finance-related, but chances are you'll find something new that clicks. Here's a small selection:
– When you are young spend at least 6 months to one year living as poor as you can, owning as little as you possibly can, eating beans and rice in a tiny room or tent, to experience what your "worst" lifestyle might be. That way any time you have to risk something in the future you won't be afraid of the worst case scenario.

– Don't be the best. Be the only.

– Perhaps the most counter-intuitive truth of the universe is that the more you give to others, the more you'll get. Understanding this is the beginning of wisdom.

– Separate the processes of creation from improving. You can't write and edit, or sculpt and polish, or make and analyze at the same time. If you do, the editor stops the creator. While you invent, don't select. While you sketch, don't inspect. While you write the first draft, don't reflect. At the start, the creator mind must be unleashed from judgement.

– Following your bliss is a recipe for paralysis if you don't know what you are passionate about. A better motto for most youth is "master something, anything". Through mastery of one thing, you can drift towards extensions of that mastery that bring you more joy, and eventually discover where your bliss is.
Definitely something to bookmark and read again.