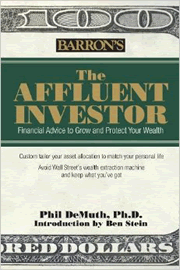 This week I've been trying to catch up on my book reviews (you should see my "to read" shelf!), and after a good beginner book I thought I'd write about a good intermediate-to-advanced book. You've probably noticed there are a lot of starter books out there for novice investors but not as many with more advanced advice ($$$… the potential audience is a fraction of the size). Addressing this deficiency is the goal of The Affluent Investor by Phil DeMuth.
In terms of the title, the industry classifies you as "mass affluent" if you have investable assets between $100,000 and $999,999. From $1 million to $10 million you are "high net worth". This definition excludes some possibly important stuff – your income, the value of your personal residence, pensions, etc. But in real world terms, I would say this book is for anyone who isn't living from paycheck-to-paycheck. If you have a $10,000 portfolio and have a surplus each month, sooner or later you will reach $100,000. If instead you have a credit card balance and it just keeps inching up, then you need something closer to a Dave Ramsey book.
The overall tone of the book is that of a close friend who is smart and into finances. DeMuth is already a financial advisor to rich folks so the last part is expected. What I mean is that he will be blunt and isn't afraid to make stereotypical assumptions in order to rattle off all his tips. At only 200 pages, most things are only touched upon in a concise manner. Here's a rough outline of the topics covered:
Big picture rules. Get and stay married. Make sure you can afford your children. Avoid debt. Save early and invest it. Diversify. Plan ahead.
Financial advice based on life stage. He puts you in the basic "affluent" mold of 20-35s have a kid buy a house, 35-55 working hard at professional career making most of your money, 55-65 protect assets and prepare for retirement, and 65+ retire and spend down money.
Financial advice based on job. Has special advice for doctors, lawyers, small business owners, and corporate executives.
General investing advice and "Can you do better?" investing advice. General investing advice is keep costs low and buy index funds that closely approximate the global market portfolio. "Can you do better?" advice touches on things like value stocks, small-cap stocks, dividend stocks, momentum, low-beta, etc.
Asset protection. Being affluent means you have money, and other people will want it. Insurance, buying real estate with LLCs, homestead exemptions, and similar topics are are very complex but his take is condensed into less than a page each.
Tax minimization. IRAs, 401ks, Solo Pensions, 529 plans, Health Savings Accounts, etc.
Here are things you might expect from a "book for rich folks" but won't find inside:
You won't get in-depth, hand-holding walkthroughs of anything. Consider the book as a push in the right direction for researching ideas.
You won't find his secret list of the best hedge fund managers.
You won't find tips on how to get rich with real estate.
You won't find advice on how to pick individual stocks like Warren Buffett.
You won't find him selling his own personal advisory services.
A general problem with all books of this type is that the advice is pretty short and to the point, but it doesn't provide very much supporting evidence. You'll either have to do your own due diligence, or blindly decide to trust the author. I've read books where the author might sound convincing but their advice is horrible. In my opinion, I think for the most part the advice in this book is good. But I'm just another person on the internet, so again do your own research.
In conclusion, I think this book covers a lot of questions that are commonly asked by the intermediate individual investor. It's not too long and not too short. Some of the advice won't fit your own situation, but at this level if you just find one solid actionable idea that makes the entire $18 book worth it. I'm personally going to look into the solo defined-beneift plan idea again, although I may still be too young to take full advantage.